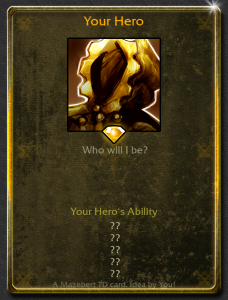 You can now vote for the last legendary hero that will be added to 1.0!
We have some excellent suggestion from the community:
Elena, Heart of Winter
Your blood freezes. Your armor rusts. Your life is mine!
16% Chance of slowing Enemies by 50% for 5 seconds (25% for bosses)
30% armor reduction on enemies (10% for bosses)
-25% damage
-1 multicrit
Vincent, the "horadric"-mage
He's not horadric and he's not even a mage, but he can build everything out of a pen and a string.
-10% Damage
-5% Attackspeed
You only need 3 Items/Towers to combine
Osmo, the Jester King
Better Lucky than Skilled: My solemn vow.
Loaded Dice
+20% Luck
+20% Item Chance
+50% Gold
-25% Damage
-25% Experience
The poll will close in three days on Wednesday, so what you waiting for? 🙂