Baby Rabbit
A Mazebert TD card by Andy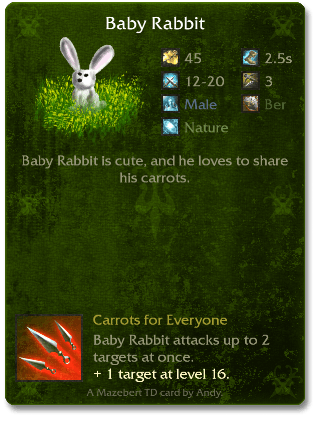 | | |
| --- | --- |
| Item level: | 1 |
| Since version: | 0.1 |
| Obtainable: | Regular card |
Changelog
s10 (2013)
Baby Rabbit loves nothing more than sharing his carrots. For most of the month he's been alive, Rabbit has shared happily with his kitmates and parents. Now, having ventured out on his own, Baby Rabbit has found new friends to share with.
These "friends", however, don't seem to enjoy Baby Rabbit's carrots. And they're much less friendly than his kitmates. In fact, if Baby Rabbit didn't know better, he'd swear his new friends were trying to attack him, in spite of his kindness.
But that simply cannot be true. Baby Rabbit has never caused anyone any harm. He does not believe anyone would harm him. Baby Rabbit can't understand what problem his new friends might have with him, but he'll solve it the same way he's solved every other problem he's faced in his short life: By throwing more carrots at it.
Damage progression
| | |
| --- | --- |
| Level | Base damage |
| 1 | 12-20 |
| 2 | 15-25 |
| 3 | 18-30 |
| 4 | 20-34 |
| 5 | 23-39 |
| 6 | 26-44 |
| 7 | 29-49 |
| 8 | 32-53 |
| 9 | 35-58 |
| 10 | 38-63 |
| 11 | 41-68 |
| 12 | 44-73 |
| 13 | 46-76 |
| 14 | 49-81 |
| 15 | 52-86 |
| 16 | 55-91 |
| 17 | 57-95 |
| 18 | 60-100 |
| 19 | 63-105 |
| 20 | 66-110 |
| 21 | 69-115 |
| 22 | 71-119 |
| 23 | 74-124 |
| 24 | 77-129 |
| 25 | 80-134 |
| 26 | 83-138 |
| 27 | 86-143 |
| 28 | 89-148 |
| 29 | 92-153 |
| 30 | 94-156 |
| 31 | 97-161 |
| 32 | 100-166 |
| 33 | 103-171 |
| 34 | 106-176 |
| 35 | 108-180 |
| 36 | 111-185 |
| 37 | 114-190 |
| 38 | 117-195 |
| 39 | 119-199 |
| 40 | 122-204 |
| 41 | 125-209 |
| 42 | 128-214 |
| 43 | 131-218 |
| 44 | 134-223 |
| 45 | 137-228 |
| 46 | 140-233 |
| 47 | 143-238 |
| 48 | 145-241 |
| 49 | 148-246 |
| 50 | 151-251 |
| 51 | 154-256 |
| 52 | 156-260 |
| 53 | 159-265 |
| 54 | 162-270 |
| 55 | 165-275 |
| 56 | 168-280 |
| 57 | 170-284 |
| 58 | 173-289 |
| 59 | 176-294 |
| 60 | 179-299 |
| 61 | 182-303 |
| 62 | 185-308 |
| 63 | 188-313 |
| 64 | 191-318 |
| 65 | 193-321 |
| 66 | 196-326 |
| 67 | 199-331 |
| 68 | 202-336 |
| 69 | 205-341 |
| 70 | 207-345 |
| 71 | 210-350 |
| 72 | 213-355 |
| 73 | 216-360 |
| 74 | 218-364 |
| 75 | 221-369 |
| 76 | 224-374 |
| 77 | 227-379 |
| 78 | 230-383 |
| 79 | 233-388 |
| 80 | 236-393 |
| 81 | 239-398 |
| 82 | 242-403 |
| 83 | 244-406 |
| 84 | 247-411 |
| 85 | 250-416 |
| 86 | 253-421 |
| 87 | 255-425 |
| 88 | 258-430 |
| 89 | 261-435 |
| 90 | 264-440 |
| 91 | 267-445 |
| 92 | 269-449 |
| 93 | 272-454 |
| 94 | 275-459 |
| 95 | 278-464 |
| 96 | 281-468 |
| 97 | 284-473 |
| 98 | 287-478 |
| 99 | 290-483 |