Balu the Bear
A Mazebert TD card by Andy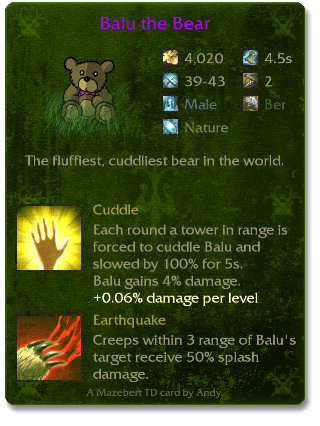 | | |
| --- | --- |
| Item level: | 64 |
| Since version: | 0.3 |
| Obtainable: | Regular card |
Changelog
s10 (2013)
A goblin patrol has stumbled upon a gaggle of their fellows, lying dead in the woods. The patrol is just about to turn back and report their finding when one of the goblins spots something small, fluffy, and brown lying in the middle of the carnage.
"It …" cries the goblin. "It's too cute!"
With more effort than he'd imagined, the goblin hoists Balu the Bear into the air. This teddy bear must be stuffed with lead, thinks the goblin, but Balu's fur is soft and his eyes are kind. Overcome with guileless joy, the goblin pulls Balu to him, giving the stuffed animal a big bear hug.
"I'll be your best friend 'til the end!" says Balu, wrapped within the goblin's arms. Then, Balu's kind eyes narrow. "And the end is now."
Balu returns the goblin's hug with twenty times the force, crushing the goblin's rib cage and his lungs. Startled and asphyxiating, the goblin drops Balu. The earth shakes as the inordinately heavy teddy bear strikes it, and the rest of the patrol staggers and falls to the ground. Before they can recover, Balu sets himself upon them.
His work done, a satisfied Balu lays down to rest again. He's made many new friends since this siege began, and he's looking forward to making many more.
Damage progression
| | |
| --- | --- |
| Level | Base damage |
| 1 | 39-43 |
| 2 | 48-54 |
| 3 | 58-64 |
| 4 | 68-76 |
| 5 | 78-86 |
| 6 | 87-97 |
| 7 | 97-107 |
| 8 | 106-118 |
| 9 | 116-128 |
| 10 | 125-139 |
| 11 | 135-149 |
| 12 | 144-160 |
| 13 | 154-170 |
| 14 | 163-181 |
| 15 | 173-191 |
| 16 | 183-203 |
| 17 | 193-213 |
| 18 | 202-224 |
| 19 | 212-234 |
| 20 | 221-245 |
| 21 | 231-255 |
| 22 | 240-266 |
| 23 | 250-276 |
| 24 | 259-287 |
| 25 | 269-297 |
| 26 | 278-308 |
| 27 | 288-318 |
| 28 | 297-329 |
| 29 | 308-340 |
| 30 | 317-351 |
| 31 | 327-361 |
| 32 | 336-372 |
| 33 | 346-382 |
| 34 | 355-393 |
| 35 | 365-403 |
| 36 | 374-414 |
| 37 | 384-424 |
| 38 | 393-435 |
| 39 | 403-445 |
| 40 | 412-456 |
| 41 | 423-467 |
| 42 | 432-478 |
| 43 | 442-488 |
| 44 | 451-499 |
| 45 | 461-509 |
| 46 | 470-520 |
| 47 | 480-530 |
| 48 | 489-541 |
| 49 | 499-551 |
| 50 | 508-562 |
| 51 | 518-572 |
| 52 | 527-583 |
| 53 | 537-593 |
| 54 | 547-605 |
| 55 | 557-615 |
| 56 | 566-626 |
| 57 | 576-636 |
| 58 | 585-647 |
| 59 | 595-657 |
| 60 | 604-668 |
| 61 | 614-678 |
| 62 | 623-689 |
| 63 | 633-699 |
| 64 | 642-710 |
| 65 | 652-720 |
| 66 | 662-732 |
| 67 | 672-742 |
| 68 | 681-753 |
| 69 | 691-763 |
| 70 | 700-774 |
| 71 | 710-784 |
| 72 | 719-795 |
| 73 | 729-805 |
| 74 | 738-816 |
| 75 | 748-826 |
| 76 | 757-837 |
| 77 | 767-847 |
| 78 | 776-858 |
| 79 | 787-869 |
| 80 | 796-880 |
| 81 | 806-890 |
| 82 | 815-901 |
| 83 | 825-911 |
| 84 | 834-922 |
| 85 | 844-932 |
| 86 | 853-943 |
| 87 | 863-953 |
| 88 | 872-964 |
| 89 | 882-974 |
| 90 | 891-985 |
| 91 | 902-996 |
| 92 | 911-1,007 |
| 93 | 921-1,017 |
| 94 | 930-1,028 |
| 95 | 940-1,038 |
| 96 | 949-1,049 |
| 97 | 959-1,059 |
| 98 | 968-1,070 |
| 99 | 978-1,080 |