Beacon of Hope
A Mazebert TD card by Kami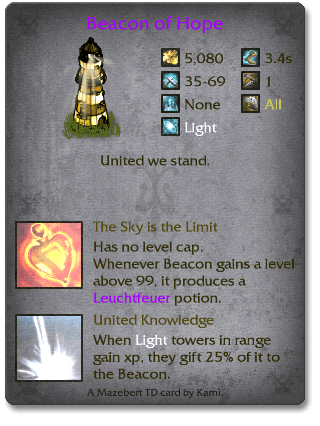 | | |
| --- | --- |
| Item level: | 100 |
| Since version: | 2.3 |
| Obtainable: | Regular card |
Changelog
s25 (2021)
There is a tower at the coast of Camelot,
Storms had passed, wars were fought,
But the tower, up to this day,
Still stands strong.
There was a tale of a wizard,
Garbed with a robe, white on it's color.
So too his beard. His long, long beard.
That lives atop the tower, ever since it was built.
The denizens found him helpful, pleasant to talk with.
The Wise Merlin, that's what they call him.
Any visitors, from scholars to idiots,
Would learn some more, after they went inside it's welcoming door.
But one day the visitors, went frequently less.
And when no one came for a whole week,
The Wizard, for the first time in a hundred years,
Went outside the tower, to find what could the answer be.
As he reached the Camelot, that's where he saw.
Immigrants, refugees from the kingdom's outskirts.
Some were merchants, some were peasants, but they all speak similarly,
About the invasion of creeps, creatures made of evil.
The Wise, old man never stepped out of the tower before,
Even the battle of thrones and previous wars haven't destabilized the country this much, he thought.
He also heard that the prince is in the frontline, to battle.
That explains enough, this is a grave situation.
Now in a post-haste, he went back to his tower.
And covered his home with a spell of teleportation.
To participate in battle, he doesn't need permission.
As he is The Wise Merlin, be it the time of conflict or peace.
Lore by @Calm_Standard
Damage progression
| | |
| --- | --- |
| Level | Base damage |
| 1 | 35-69 |
| 2 | 44-84 |
| 3 | 52-102 |
| 4 | 61-119 |
| 5 | 70-136 |
| 6 | 78-152 |
| 7 | 87-169 |
| 8 | 96-186 |
| 9 | 104-202 |
| 10 | 113-219 |
| 11 | 122-236 |
| 12 | 130-252 |
| 13 | 139-269 |
| 14 | 148-286 |
| 15 | 156-302 |
| 16 | 165-319 |
| 17 | 173-337 |
| 18 | 182-354 |
| 19 | 190-370 |
| 20 | 199-387 |
| 21 | 208-404 |
| 22 | 216-420 |
| 23 | 225-437 |
| 24 | 234-454 |
| 25 | 242-470 |
| 26 | 251-487 |
| 27 | 260-504 |
| 28 | 268-520 |
| 29 | 277-537 |
| 30 | 286-554 |
| 31 | 294-572 |
| 32 | 303-587 |
| 33 | 311-605 |
| 34 | 320-622 |
| 35 | 328-638 |
| 36 | 337-655 |
| 37 | 346-672 |
| 38 | 354-688 |
| 39 | 363-705 |
| 40 | 372-722 |
| 41 | 381-739 |
| 42 | 389-755 |
| 43 | 398-772 |
| 44 | 407-789 |
| 45 | 415-805 |
| 46 | 424-822 |
| 47 | 432-840 |
| 48 | 441-855 |
| 49 | 449-873 |
| 50 | 458-890 |
| 51 | 466-906 |
| 52 | 475-923 |
| 53 | 484-940 |
| 54 | 493-957 |
| 55 | 501-973 |
| 56 | 510-990 |
| 57 | 519-1,007 |
| 58 | 527-1,023 |
| 59 | 536-1,040 |
| 60 | 545-1,057 |
| 61 | 553-1,073 |
| 62 | 562-1,090 |
| 63 | 571-1,107 |
| 64 | 579-1,123 |
| 65 | 588-1,140 |
| 66 | 596-1,158 |
| 67 | 605-1,175 |
| 68 | 613-1,191 |
| 69 | 622-1,208 |
| 70 | 631-1,225 |
| 71 | 639-1,241 |
| 72 | 648-1,258 |
| 73 | 657-1,275 |
| 74 | 665-1,291 |
| 75 | 674-1,308 |
| 76 | 683-1,325 |
| 77 | 691-1,341 |
| 78 | 700-1,358 |
| 79 | 709-1,375 |
| 80 | 717-1,393 |
| 81 | 726-1,408 |
| 82 | 734-1,426 |
| 83 | 743-1,443 |
| 84 | 751-1,459 |
| 85 | 760-1,476 |
| 86 | 769-1,493 |
| 87 | 777-1,509 |
| 88 | 786-1,526 |
| 89 | 795-1,543 |
| 90 | 803-1,559 |
| 91 | 812-1,576 |
| 92 | 821-1,593 |
| 93 | 830-1,610 |
| 94 | 838-1,626 |
| 95 | 847-1,643 |
| 96 | 855-1,661 |
| 97 | 864-1,676 |
| 98 | 872-1,694 |
| 99 | 881-1,711 |