Beaver
A Mazebert TD card by Andy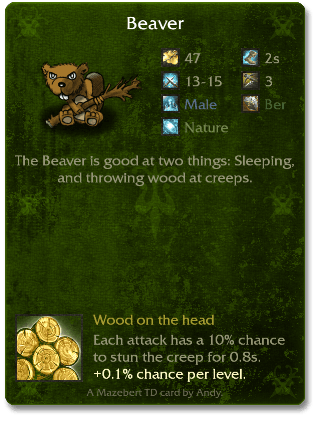 | | |
| --- | --- |
| Item level: | 1 |
| Since version: | 0.1 |
| Obtainable: | Regular card |
Changelog
s10 (2013)
Beavers as a whole are quite industrious, but this particular Beaver enjoys his beauty sleep. Which is not to say he can't be roused. A sudden crash of water, a kingfisher's cry of alarm, or the sounds of battle will do the trick, even in the early morning.
This morning, it's the sounds of battle. The still-drowsy Beaver emerges from his lodge to find his territory under attack. Creeps are walking his family's shores and filling their river. They're climbing his mounds and breaking his dams.
The Beaver will have no more of it.
He might be lazy, but there's one thing the Beaver's good at: Defending his home. He finds the nearest loose log and chucks it at the creep closest him. The wood connects with a satisfying thunk.
The creep falls, and the Beaver reaches for another piece log, prepared to throw his entire stockpile at this horde if that's what it will take to drive them back.
Damage progression
| | |
| --- | --- |
| Level | Base damage |
| 1 | 13-15 |
| 2 | 16-18 |
| 3 | 19-21 |
| 4 | 22-24 |
| 5 | 26-28 |
| 6 | 28-32 |
| 7 | 31-35 |
| 8 | 34-38 |
| 9 | 37-41 |
| 10 | 41-45 |
| 11 | 44-48 |
| 12 | 47-51 |
| 13 | 49-55 |
| 14 | 52-58 |
| 15 | 56-62 |
| 16 | 59-65 |
| 17 | 62-68 |
| 18 | 65-71 |
| 19 | 67-75 |
| 20 | 71-79 |
| 21 | 74-82 |
| 22 | 77-85 |
| 23 | 80-88 |
| 24 | 83-91 |
| 25 | 86-96 |
| 26 | 89-99 |
| 27 | 92-102 |
| 28 | 95-105 |
| 29 | 98-108 |
| 30 | 102-112 |
| 31 | 104-116 |
| 32 | 107-119 |
| 33 | 110-122 |
| 34 | 113-125 |
| 35 | 117-129 |
| 36 | 120-132 |
| 37 | 123-135 |
| 38 | 125-139 |
| 39 | 128-142 |
| 40 | 132-146 |
| 41 | 135-149 |
| 42 | 138-152 |
| 43 | 141-155 |
| 44 | 143-159 |
| 45 | 147-163 |
| 46 | 150-166 |
| 47 | 153-169 |
| 48 | 156-172 |
| 49 | 159-175 |
| 50 | 162-180 |
| 51 | 165-183 |
| 52 | 168-186 |
| 53 | 171-189 |
| 54 | 174-192 |
| 55 | 178-196 |
| 56 | 180-200 |
| 57 | 183-203 |
| 58 | 186-206 |
| 59 | 189-209 |
| 60 | 193-213 |
| 61 | 196-216 |
| 62 | 199-219 |
| 63 | 201-223 |
| 64 | 204-226 |
| 65 | 208-230 |
| 66 | 211-233 |
| 67 | 214-236 |
| 68 | 217-239 |
| 69 | 219-243 |
| 70 | 223-247 |
| 71 | 226-250 |
| 72 | 229-253 |
| 73 | 232-256 |
| 74 | 235-259 |
| 75 | 238-264 |
| 76 | 241-267 |
| 77 | 244-270 |
| 78 | 247-273 |
| 79 | 250-276 |
| 80 | 254-280 |
| 81 | 256-284 |
| 82 | 259-287 |
| 83 | 262-290 |
| 84 | 265-293 |
| 85 | 269-297 |
| 86 | 272-300 |
| 87 | 275-303 |
| 88 | 277-307 |
| 89 | 280-310 |
| 90 | 284-314 |
| 91 | 287-317 |
| 92 | 290-320 |
| 93 | 293-323 |
| 94 | 295-327 |
| 95 | 299-331 |
| 96 | 302-334 |
| 97 | 305-337 |
| 98 | 308-340 |
| 99 | 311-343 |