Black Widow
A Mazebert TD card by Alex Nill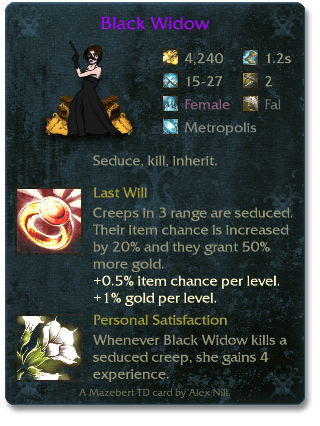 | | |
| --- | --- |
| Item level: | 63 |
| Since version: | 0.5 |
| Obtainable: | Regular card |
Changelog
s14 (2019)
Rarity changed from rare to unique.
s13 (2019)
Rarity changed from unique to rare.
s10 (2013)
The Black Widow had nearly finished emptying her late husband's bank accounts, when goblins stormed Metropolis State Bank. Now, she has her eyes on a new prize.
"Stay out of our way, and you might live," says the goblins' leader, a nasty thug named Krarll. Krarll is standing near the bank's entrance, and he is brandishing an extravagant sword that the Widow knows is not his. The goblin's flunkies have spread themselves throughout the bank. They are ransacking the place, taking every shiny coin and piece of jewelry they can find. But the Widow knows Krarll is holding the real treasure, because somehow, he has managed to get hold of Excalibur, King Arthur's sword.
And now, the Widow is going to make it hers.
"That is it," says the Widow, standing and stomping toward Krarll, before any of the goblins have time to react. "That is absolutely the last straw. I can't put up with this any longer."
"Can't put up with what?" asks Krarll, surprising even himself. The goblin has never before been attracted to anything other than weapons and gold; his brain is having trouble processing the Widow's beauty.
"Not kissing you," says the Widow. "I simply must know what it's like to kiss a goblin as handsome as yourself. I imagine it will be quite wonderful."
The Widow leans in close, taking Krarll's cheek in her right hand and his right hand in her left. By the time the Widow's finished kissing Krarll, Excalibur is hers. The Widow removes her lips from Krarll's and places the sword to his throat.
"Yes, a fantastic kiss," says the Widow, smiling. "Absolutely to die for. Or it will be, if you don't let me walk out of here right now."
After a bit of back and forth, Krarll shows the Widow to the door. The Widow had planned to skip town anyway, but now she knows exactly where she's going: Camelot. Because she imagines that if he's still alive, King Arthur will pay a king's ransom to retrieve the sword that makes him sovereign.
Damage progression
| | |
| --- | --- |
| Level | Base damage |
| 1 | 15-27 |
| 2 | 19-35 |
| 3 | 22-42 |
| 4 | 26-48 |
| 5 | 29-55 |
| 6 | 33-61 |
| 7 | 36-68 |
| 8 | 40-74 |
| 9 | 43-81 |
| 10 | 47-87 |
| 11 | 51-95 |
| 12 | 55-101 |
| 13 | 58-108 |
| 14 | 62-114 |
| 15 | 65-121 |
| 16 | 69-127 |
| 17 | 72-134 |
| 18 | 76-140 |
| 19 | 79-147 |
| 20 | 83-153 |
| 21 | 87-161 |
| 22 | 90-168 |
| 23 | 94-174 |
| 24 | 97-181 |
| 25 | 101-187 |
| 26 | 104-194 |
| 27 | 108-200 |
| 28 | 111-207 |
| 29 | 115-213 |
| 30 | 119-221 |
| 31 | 122-228 |
| 32 | 126-234 |
| 33 | 129-241 |
| 34 | 133-247 |
| 35 | 136-254 |
| 36 | 140-260 |
| 37 | 143-267 |
| 38 | 147-273 |
| 39 | 151-281 |
| 40 | 155-287 |
| 41 | 158-294 |
| 42 | 162-300 |
| 43 | 165-307 |
| 44 | 169-313 |
| 45 | 172-320 |
| 46 | 176-326 |
| 47 | 179-333 |
| 48 | 183-339 |
| 49 | 187-347 |
| 50 | 190-354 |
| 51 | 194-360 |
| 52 | 197-367 |
| 53 | 201-373 |
| 54 | 204-380 |
| 55 | 208-386 |
| 56 | 211-393 |
| 57 | 215-399 |
| 58 | 219-407 |
| 59 | 223-413 |
| 60 | 226-420 |
| 61 | 230-426 |
| 62 | 233-433 |
| 63 | 237-439 |
| 64 | 240-446 |
| 65 | 244-452 |
| 66 | 247-459 |
| 67 | 251-467 |
| 68 | 255-473 |
| 69 | 258-480 |
| 70 | 262-486 |
| 71 | 265-493 |
| 72 | 269-499 |
| 73 | 272-506 |
| 74 | 276-512 |
| 75 | 279-519 |
| 76 | 283-525 |
| 77 | 287-533 |
| 78 | 290-540 |
| 79 | 294-546 |
| 80 | 297-553 |
| 81 | 301-559 |
| 82 | 304-566 |
| 83 | 308-572 |
| 84 | 311-579 |
| 85 | 315-585 |
| 86 | 319-593 |
| 87 | 323-599 |
| 88 | 326-606 |
| 89 | 330-612 |
| 90 | 333-619 |
| 91 | 337-625 |
| 92 | 340-632 |
| 93 | 344-638 |
| 94 | 347-645 |
| 95 | 351-653 |
| 96 | 355-659 |
| 97 | 358-666 |
| 98 | 362-672 |
| 99 | 365-679 |