Blofeld Laser Satellite
A Mazebert TD card by Andy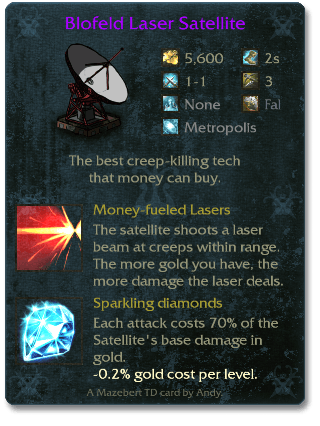 | | |
| --- | --- |
| Item level: | 75 |
| Since version: | 0.4 |
| Obtainable: | Regular card |
Changelog
s10 (2013)
It is a dark day indeed, when Ernst Starvro Blofeld must admit that James Bond is right. The mortal enemies are standing in Blofeld's study, sipping, respectively, on a mineral water and a dry martini. Bond is swirling his martini, watching the lemon peel skate around his glass's rim. He has made Blofeld an offer that any sane man would not refuse. Now, he awaits Blofeld's response.
Because Blofeld, of course, is not a sane man. No sane man would spend millions of dollars constructing a diamond-powered laser, attaching it to a satellite, and then shooting that satellite into orbit. No sane man would attempt to extort the world's governments using that satellite. That had been Blofeld's plan, before the creep siege preempted his schemes.
Now, there may be no governments left to extort unless Ernst Stavro Blofeld uses his Laser Satellite for good. Blofeld may not be a sane man, but he is a self-interested one. That self-interest inclines him to agree with Bond's point: That this time the world must be enough.
"Yes," says Blofeld. "I will relinquish control of my satellite to MI6. You will find it as effective as it is extravagant. It will certainly save us from these undesirables."
As he sets his mineral water upon his desk, Blofeld's hand encounters his white, Persian cat. Blofeld strokes the cat's fur and smiles, because he knows what Bond is about to say.
"In return," says Bond, grimacing, "you will receive immunity for all your crimes to date. You will be given a new identity, flown to the country of your choice, and given access to an account containing £100 million."
Bond lifts his martini to his lips and takes another sip. Then, he turns to look out Blofeld's window. The snowy, mountain view is stunning.
"What was it you told me?" says Bond. "That first time we met?"
"That a man only lives twice, Mr. Bond," says Blofeld. "And yes. I intend to live well, in my second life."
Damage progression
| | |
| --- | --- |
| Level | Base damage |
| 1 | 1-1 |
| 2 | 1-1 |
| 3 | 1-1 |
| 4 | 1-1 |
| 5 | 1-1 |
| 6 | 1-1 |
| 7 | 1-1 |
| 8 | 1-1 |
| 9 | 1-1 |
| 10 | 1-1 |
| 11 | 1-1 |
| 12 | 1-1 |
| 13 | 1-1 |
| 14 | 1-1 |
| 15 | 1-1 |
| 16 | 1-1 |
| 17 | 1-1 |
| 18 | 1-1 |
| 19 | 1-1 |
| 20 | 1-1 |
| 21 | 1-1 |
| 22 | 1-1 |
| 23 | 1-1 |
| 24 | 1-1 |
| 25 | 1-1 |
| 26 | 1-1 |
| 27 | 1-1 |
| 28 | 1-1 |
| 29 | 1-1 |
| 30 | 1-1 |
| 31 | 1-1 |
| 32 | 1-1 |
| 33 | 1-1 |
| 34 | 1-1 |
| 35 | 1-1 |
| 36 | 1-1 |
| 37 | 1-1 |
| 38 | 1-1 |
| 39 | 1-1 |
| 40 | 1-1 |
| 41 | 1-1 |
| 42 | 1-1 |
| 43 | 1-1 |
| 44 | 1-1 |
| 45 | 1-1 |
| 46 | 1-1 |
| 47 | 1-1 |
| 48 | 1-1 |
| 49 | 1-1 |
| 50 | 1-1 |
| 51 | 1-1 |
| 52 | 1-1 |
| 53 | 1-1 |
| 54 | 1-1 |
| 55 | 1-1 |
| 56 | 1-1 |
| 57 | 1-1 |
| 58 | 1-1 |
| 59 | 1-1 |
| 60 | 1-1 |
| 61 | 1-1 |
| 62 | 1-1 |
| 63 | 1-1 |
| 64 | 1-1 |
| 65 | 1-1 |
| 66 | 1-1 |
| 67 | 1-1 |
| 68 | 1-1 |
| 69 | 1-1 |
| 70 | 1-1 |
| 71 | 1-1 |
| 72 | 1-1 |
| 73 | 1-1 |
| 74 | 1-1 |
| 75 | 1-1 |
| 76 | 1-1 |
| 77 | 1-1 |
| 78 | 1-1 |
| 79 | 1-1 |
| 80 | 1-1 |
| 81 | 1-1 |
| 82 | 1-1 |
| 83 | 1-1 |
| 84 | 1-1 |
| 85 | 1-1 |
| 86 | 1-1 |
| 87 | 1-1 |
| 88 | 1-1 |
| 89 | 1-1 |
| 90 | 1-1 |
| 91 | 1-1 |
| 92 | 1-1 |
| 93 | 1-1 |
| 94 | 1-1 |
| 95 | 1-1 |
| 96 | 1-1 |
| 97 | 1-1 |
| 98 | 1-1 |
| 99 | 1-1 |