Dandelion
A Mazebert TD card by Ulrich Herbricht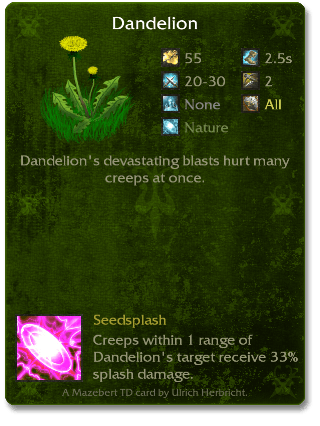 | | |
| --- | --- |
| Item level: | 1 |
| Since version: | 0.1 |
| Obtainable: | Regular card |
Changelog
s10 (2013)
Seeds scatter on the wind, as the Dandelion continues stubbornly defending its territory. The callous creeps attacking now are not the first beings to attempt to uproot it. And they certainly won't be the last. But the Dandelion has survived millions of years, survived millions of grasping jaws and claws and pairs of hands. These creeps will not be the death of it.
Indeed, the Dandelion's seeds do their job. They strike and they sting, causing several creeps to fall. Those who do manage to stagger through the seedstorm celebrate, thinking the most dangerous part of their job done. But as they reach for the Dandelion, they learn why it's named for lions' teeth. The plant's sharp leaves stab through the attackers' hands and, as soon as they're able, the survivors flee in pain.
In this way, the Dandelion drives back all who would destroy it. As it has since time immemorial, and as it will in perpetuity. No matter the outcome of this siege, the Dandelion will survive - because that's what Dandelions do.
Damage progression
| | |
| --- | --- |
| Level | Base damage |
| 1 | 20-30 |
| 2 | 24-38 |
| 3 | 29-45 |
| 4 | 34-52 |
| 5 | 39-59 |
| 6 | 43-67 |
| 7 | 48-74 |
| 8 | 53-81 |
| 9 | 58-88 |
| 10 | 62-96 |
| 11 | 67-103 |
| 12 | 72-110 |
| 13 | 77-117 |
| 14 | 81-125 |
| 15 | 86-132 |
| 16 | 91-139 |
| 17 | 96-146 |
| 18 | 100-154 |
| 19 | 105-161 |
| 20 | 110-168 |
| 21 | 115-175 |
| 22 | 119-183 |
| 23 | 124-190 |
| 24 | 129-197 |
| 25 | 134-204 |
| 26 | 138-212 |
| 27 | 143-219 |
| 28 | 148-226 |
| 29 | 152-234 |
| 30 | 157-241 |
| 31 | 162-248 |
| 32 | 167-255 |
| 33 | 171-263 |
| 34 | 176-270 |
| 35 | 181-277 |
| 36 | 186-284 |
| 37 | 190-292 |
| 38 | 195-299 |
| 39 | 200-306 |
| 40 | 205-313 |
| 41 | 209-321 |
| 42 | 214-328 |
| 43 | 219-335 |
| 44 | 224-342 |
| 45 | 228-350 |
| 46 | 233-357 |
| 47 | 238-364 |
| 48 | 243-371 |
| 49 | 247-379 |
| 50 | 252-386 |
| 51 | 257-393 |
| 52 | 261-401 |
| 53 | 266-408 |
| 54 | 271-415 |
| 55 | 276-422 |
| 56 | 280-430 |
| 57 | 285-437 |
| 58 | 290-444 |
| 59 | 295-451 |
| 60 | 299-459 |
| 61 | 304-466 |
| 62 | 309-473 |
| 63 | 314-480 |
| 64 | 318-488 |
| 65 | 323-495 |
| 66 | 328-502 |
| 67 | 333-509 |
| 68 | 337-517 |
| 69 | 342-524 |
| 70 | 347-531 |
| 71 | 352-538 |
| 72 | 356-546 |
| 73 | 361-553 |
| 74 | 366-560 |
| 75 | 371-567 |
| 76 | 375-575 |
| 77 | 380-582 |
| 78 | 385-589 |
| 79 | 389-597 |
| 80 | 394-604 |
| 81 | 399-611 |
| 82 | 404-618 |
| 83 | 408-626 |
| 84 | 413-633 |
| 85 | 418-640 |
| 86 | 423-647 |
| 87 | 427-655 |
| 88 | 432-662 |
| 89 | 437-669 |
| 90 | 442-676 |
| 91 | 446-684 |
| 92 | 451-691 |
| 93 | 456-698 |
| 94 | 461-705 |
| 95 | 465-713 |
| 96 | 470-720 |
| 97 | 475-727 |
| 98 | 480-734 |
| 99 | 484-742 |