Electric Chair
A Mazebert TD card by Andy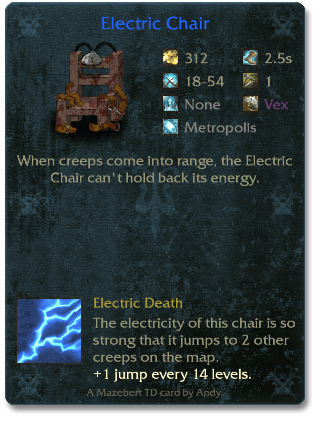 | | |
| --- | --- |
| Item level: | 1 |
| Since version: | 0.1 |
| Obtainable: | Regular card |
Changelog
s21 (2020)
Initial chains increased from 1 to 2.
Base damage increased by 20%.
s10 (2013)
Sieging a city is tiring work, and after days spent sacking and pillaging, even the hardiest creeps can burn out. Which is what has happened to the goblins Gnort and Gnarl.
"I just need a minute," says Gnort, weary from smashing yet another coffee shop to pieces. (Gnort prides himself in the care he devotes to smashing coffee shops. Truly, he is a master of the form.) "A minute, and somewhere to sit and catch my breath."
"There's a chair in that building," says Gnarl, pointing across the street to a shuttered curio shop. "It looks comfy. We could take turns sitting?"
"I'm first!" says Gnort, bounding across the street and through the curio shop's previously-intact window. (As Gnort crashes through the window, Gnarl grumbles to himself. If Gnort is a master at smashing coffee shops, Gnarl is a master at smashing windows. He rates Gnort's effort just a 6 out of 10.)
Gnort finds the chair and eyes its straps, its leather pads, and its curious headpiece. After a minute's observation, he decides that he knows what this chair is.
"A massager!" yells Gnort, to ensure the approaching Gnarl can hear him. "Oh, that's exciting. I have some kinks that need working out."
"Well?" says Gnarl, impatiently. "I want to rest, too! Sit down already!"
Gnort sits, and Gnarl straps him into the chair and lowers the headpiece. After Gnort's secured and comfy, Gnarl flips the "ON" switch located on the back of the Electric Chair.
Immediately, electric current overwhelms both goblins' bodies - boiling their blood and stopping their hearts. And rather than receiving the minute of rest they'd hoped for, Gnort and Gnarl are now burnt out much further than before.
Damage progression
| | |
| --- | --- |
| Level | Base damage |
| 1 | 18-54 |
| 2 | 23-68 |
| 3 | 27-81 |
| 4 | 32-95 |
| 5 | 36-107 |
| 6 | 40-120 |
| 7 | 45-134 |
| 8 | 49-147 |
| 9 | 54-161 |
| 10 | 58-173 |
| 11 | 62-186 |
| 12 | 67-200 |
| 13 | 71-213 |
| 14 | 76-227 |
| 15 | 80-239 |
| 16 | 84-252 |
| 17 | 89-266 |
| 18 | 93-279 |
| 19 | 98-293 |
| 20 | 102-305 |
| 21 | 106-318 |
| 22 | 111-332 |
| 23 | 115-345 |
| 24 | 120-359 |
| 25 | 124-371 |
| 26 | 128-384 |
| 27 | 133-398 |
| 28 | 137-411 |
| 29 | 142-425 |
| 30 | 146-437 |
| 31 | 150-450 |
| 32 | 155-464 |
| 33 | 159-477 |
| 34 | 164-491 |
| 35 | 168-503 |
| 36 | 172-516 |
| 37 | 177-530 |
| 38 | 181-543 |
| 39 | 186-557 |
| 40 | 190-569 |
| 41 | 194-582 |
| 42 | 199-596 |
| 43 | 203-609 |
| 44 | 208-623 |
| 45 | 212-635 |
| 46 | 216-648 |
| 47 | 221-662 |
| 48 | 225-675 |
| 49 | 230-689 |
| 50 | 234-701 |
| 51 | 238-714 |
| 52 | 243-728 |
| 53 | 247-741 |
| 54 | 252-755 |
| 55 | 256-767 |
| 56 | 260-780 |
| 57 | 265-794 |
| 58 | 269-807 |
| 59 | 274-821 |
| 60 | 278-833 |
| 61 | 282-846 |
| 62 | 287-860 |
| 63 | 291-873 |
| 64 | 296-887 |
| 65 | 300-899 |
| 66 | 304-912 |
| 67 | 309-926 |
| 68 | 313-939 |
| 69 | 318-953 |
| 70 | 322-965 |
| 71 | 326-978 |
| 72 | 331-992 |
| 73 | 335-1,005 |
| 74 | 340-1,019 |
| 75 | 344-1,031 |
| 76 | 348-1,044 |
| 77 | 353-1,058 |
| 78 | 357-1,071 |
| 79 | 362-1,085 |
| 80 | 366-1,097 |
| 81 | 370-1,110 |
| 82 | 375-1,124 |
| 83 | 379-1,137 |
| 84 | 384-1,151 |
| 85 | 388-1,163 |
| 86 | 392-1,176 |
| 87 | 397-1,190 |
| 88 | 401-1,203 |
| 89 | 406-1,217 |
| 90 | 410-1,229 |
| 91 | 414-1,242 |
| 92 | 419-1,256 |
| 93 | 423-1,269 |
| 94 | 428-1,283 |
| 95 | 432-1,295 |
| 96 | 436-1,308 |
| 97 | 441-1,322 |
| 98 | 445-1,335 |
| 99 | 450-1,349 |