Elvis Imitator
A Mazebert TD card by Thomas Pircher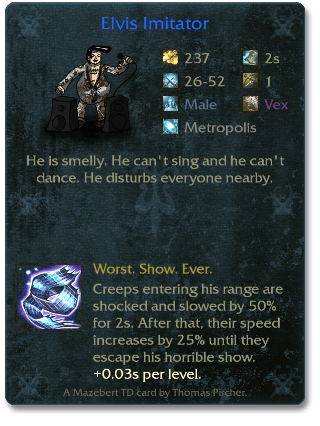 | | |
| --- | --- |
| Item level: | 1 |
| Since version: | 0.4 |
| Obtainable: | Regular card |
Changelog
s25 (2021)
Slow duration increased from 0.01 to 0.03s / level.
s21 (2020)
Aura range is always the same as Elvis' range.
s10 (2013)
Before this siege began, the Elvis Imitator performed 15 shows each week. So battling creeps has not tired him any.
"You're caught in a trap!" belts the Imitator, as he wraps his microphone cord around another creep's neck. The creep starts to collapse, overcome not by the cord, but by the Elvis Imitator's terrible, sweat-fueled stink.
"You can't walk out!" And indeed, the creep cannot escape. So rather than continue struggling to breathe through the Imitator's stench, and listen to his awful singing, the creep chooses to surrender to blissful unconsciousness.
"Because I stunned you too much bab-ayyy … "
The Elvis Imitator unwinds his microphone cord from the downed creep's throat and pauses a moment, as though he expects to be asked for an encore. Then, satisfied that he's knocked this audience dead, the Imitator gyrates away - searching for his next performance.
Damage progression
| | |
| --- | --- |
| Level | Base damage |
| 1 | 26-52 |
| 2 | 33-65 |
| 3 | 40-78 |
| 4 | 46-90 |
| 5 | 52-104 |
| 6 | 58-116 |
| 7 | 65-129 |
| 8 | 72-142 |
| 9 | 78-154 |
| 10 | 84-168 |
| 11 | 90-180 |
| 12 | 97-193 |
| 13 | 104-206 |
| 14 | 110-218 |
| 15 | 117-231 |
| 16 | 123-243 |
| 17 | 129-257 |
| 18 | 136-270 |
| 19 | 142-282 |
| 20 | 149-295 |
| 21 | 155-307 |
| 22 | 161-321 |
| 23 | 168-334 |
| 24 | 174-346 |
| 25 | 181-359 |
| 26 | 187-371 |
| 27 | 194-384 |
| 28 | 200-398 |
| 29 | 206-410 |
| 30 | 213-423 |
| 31 | 219-435 |
| 32 | 226-448 |
| 33 | 232-462 |
| 34 | 239-473 |
| 35 | 245-487 |
| 36 | 251-499 |
| 37 | 258-512 |
| 38 | 265-525 |
| 39 | 271-537 |
| 40 | 277-551 |
| 41 | 283-563 |
| 42 | 290-576 |
| 43 | 297-589 |
| 44 | 303-601 |
| 45 | 310-614 |
| 46 | 316-626 |
| 47 | 322-640 |
| 48 | 329-653 |
| 49 | 335-665 |
| 50 | 342-678 |
| 51 | 348-690 |
| 52 | 354-704 |
| 53 | 361-717 |
| 54 | 367-729 |
| 55 | 374-742 |
| 56 | 380-754 |
| 57 | 387-767 |
| 58 | 393-781 |
| 59 | 399-793 |
| 60 | 406-806 |
| 61 | 412-818 |
| 62 | 419-831 |
| 63 | 425-845 |
| 64 | 431-857 |
| 65 | 438-870 |
| 66 | 444-882 |
| 67 | 451-895 |
| 68 | 458-908 |
| 69 | 464-920 |
| 70 | 470-934 |
| 71 | 476-946 |
| 72 | 483-959 |
| 73 | 490-972 |
| 74 | 496-984 |
| 75 | 502-998 |
| 76 | 509-1,009 |
| 77 | 515-1,023 |
| 78 | 522-1,036 |
| 79 | 528-1,048 |
| 80 | 535-1,061 |
| 81 | 541-1,073 |
| 82 | 547-1,087 |
| 83 | 554-1,100 |
| 84 | 560-1,112 |
| 85 | 567-1,125 |
| 86 | 573-1,137 |
| 87 | 580-1,150 |
| 88 | 586-1,164 |
| 89 | 592-1,176 |
| 90 | 599-1,189 |
| 91 | 605-1,201 |
| 92 | 612-1,214 |
| 93 | 618-1,228 |
| 94 | 624-1,240 |
| 95 | 631-1,253 |
| 96 | 637-1,265 |
| 97 | 644-1,278 |
| 98 | 651-1,291 |
| 99 | 657-1,303 |