Ganesha
A Mazebert TD card by Ulrich Herbricht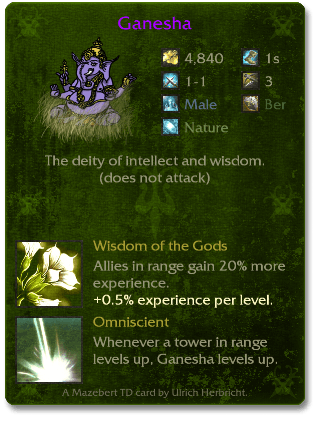 | | |
| --- | --- |
| Item level: | 72 |
| Since version: | 0.1 |
| Obtainable: | Regular card |
Changelog
s21 (2020)
Aura range is always the same as Ganeshas' range.
s10 (2013)
Whenever Nature's denizens confront a particularly trying challenge, they pray to Lord Ganesha. Known as the Remover of Obstacles and the God of Success, Ganesha has helped his dear ones feast through famines, weather abominable storms, and even stave off mankind's most malign advances. But in this creep siege, Ganesha may have finally found an obstacle that even he cannot help his people overcome.
There is, however, no telling Ganesha that. While the Lord of the People will not wield his broken tusk in combat, he will stand beside all those who invoke his aid. He will offer them his counsel and advice. He will watch as they grow wise and strong. Because Ganesha knows, in his divine heart, that the denizens of Nature do possess the capacity to weather even this great storm - and continue upon their path to eternal enlightenment.
Damage progression
| | |
| --- | --- |
| Level | Base damage |
| 1 | 1-1 |
| 2 | 1-1 |
| 3 | 1-1 |
| 4 | 1-1 |
| 5 | 1-1 |
| 6 | 1-1 |
| 7 | 1-1 |
| 8 | 1-1 |
| 9 | 1-1 |
| 10 | 1-1 |
| 11 | 1-1 |
| 12 | 1-1 |
| 13 | 1-1 |
| 14 | 1-1 |
| 15 | 1-1 |
| 16 | 1-1 |
| 17 | 1-1 |
| 18 | 1-1 |
| 19 | 1-1 |
| 20 | 1-1 |
| 21 | 1-1 |
| 22 | 1-1 |
| 23 | 1-1 |
| 24 | 1-1 |
| 25 | 1-1 |
| 26 | 1-1 |
| 27 | 1-1 |
| 28 | 1-1 |
| 29 | 1-1 |
| 30 | 1-1 |
| 31 | 1-1 |
| 32 | 1-1 |
| 33 | 1-1 |
| 34 | 1-1 |
| 35 | 1-1 |
| 36 | 1-1 |
| 37 | 1-1 |
| 38 | 1-1 |
| 39 | 1-1 |
| 40 | 1-1 |
| 41 | 1-1 |
| 42 | 1-1 |
| 43 | 1-1 |
| 44 | 1-1 |
| 45 | 1-1 |
| 46 | 1-1 |
| 47 | 1-1 |
| 48 | 1-1 |
| 49 | 1-1 |
| 50 | 1-1 |
| 51 | 1-1 |
| 52 | 1-1 |
| 53 | 1-1 |
| 54 | 1-1 |
| 55 | 1-1 |
| 56 | 1-1 |
| 57 | 1-1 |
| 58 | 1-1 |
| 59 | 1-1 |
| 60 | 1-1 |
| 61 | 1-1 |
| 62 | 1-1 |
| 63 | 1-1 |
| 64 | 1-1 |
| 65 | 1-1 |
| 66 | 1-1 |
| 67 | 1-1 |
| 68 | 1-1 |
| 69 | 1-1 |
| 70 | 1-1 |
| 71 | 1-1 |
| 72 | 1-1 |
| 73 | 1-1 |
| 74 | 1-1 |
| 75 | 1-1 |
| 76 | 1-1 |
| 77 | 1-1 |
| 78 | 1-1 |
| 79 | 1-1 |
| 80 | 1-1 |
| 81 | 1-1 |
| 82 | 1-1 |
| 83 | 1-1 |
| 84 | 1-1 |
| 85 | 1-1 |
| 86 | 1-1 |
| 87 | 1-1 |
| 88 | 1-1 |
| 89 | 1-1 |
| 90 | 1-1 |
| 91 | 1-1 |
| 92 | 1-1 |
| 93 | 1-1 |
| 94 | 1-1 |
| 95 | 1-1 |
| 96 | 1-1 |
| 97 | 1-1 |
| 98 | 1-1 |
| 99 | 1-1 |