Gargoyle
A Mazebert TD card by jhoijhoi & shimakura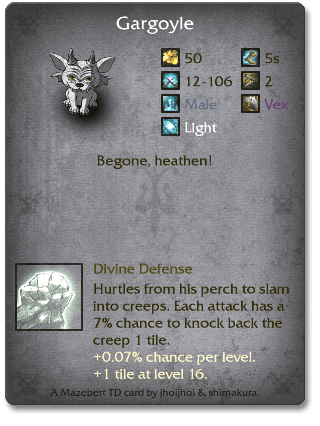 | | |
| --- | --- |
| Item level: | 1 |
| Since version: | 2.0 |
| Obtainable: | Regular card |
Changelog
s18 (2019)
"Oh, another plaything!"
The Gargoyle is a very good stone dog who takes pleasure in driving away evil. As such, the creep siege has put him in his element. Attacking from atop castles and cathedrals, the Gargoyle's "played" with dozens of creeps - and begun marking his territory with their remains.
Still, new enemies continue crossing the Gargoyle's makeshift boundary line, so he continues showing them what a good dog he is. Each heathen receives the Gargoyle's love in the form of a granite body slam and a series of growls, warning them to run away unless they want to experience more of the same.
Some creeps heed the Gargoyle's warning. Others do not. And honestly, the Gargoyle doesn't mind either way. He lives to defend the buildings his masters entrusted to him, and he'll happily continue doing so until the siege breaks, and he's rewarded with an excellent tummy rub.
Damage progression
| | |
| --- | --- |
| Level | Base damage |
| 1 | 12-106 |
| 2 | 15-131 |
| 3 | 17-157 |
| 4 | 20-184 |
| 5 | 23-209 |
| 6 | 26-236 |
| 7 | 29-261 |
| 8 | 32-286 |
| 9 | 35-313 |
| 10 | 38-338 |
| 11 | 41-365 |
| 12 | 43-391 |
| 13 | 46-416 |
| 14 | 49-443 |
| 15 | 52-468 |
| 16 | 55-495 |
| 17 | 58-520 |
| 18 | 61-545 |
| 19 | 64-572 |
| 20 | 66-598 |
| 21 | 69-625 |
| 22 | 72-650 |
| 23 | 75-675 |
| 24 | 78-702 |
| 25 | 81-727 |
| 26 | 84-754 |
| 27 | 87-779 |
| 28 | 89-805 |
| 29 | 92-832 |
| 30 | 95-857 |
| 31 | 98-884 |
| 32 | 101-909 |
| 33 | 104-934 |
| 34 | 107-961 |
| 35 | 110-986 |
| 36 | 113-1,013 |
| 37 | 115-1,039 |
| 38 | 118-1,064 |
| 39 | 121-1,091 |
| 40 | 124-1,116 |
| 41 | 127-1,143 |
| 42 | 130-1,168 |
| 43 | 133-1,193 |
| 44 | 136-1,220 |
| 45 | 138-1,246 |
| 46 | 141-1,273 |
| 47 | 144-1,298 |
| 48 | 147-1,323 |
| 49 | 150-1,350 |
| 50 | 153-1,375 |
| 51 | 156-1,402 |
| 52 | 159-1,427 |
| 53 | 161-1,453 |
| 54 | 164-1,480 |
| 55 | 167-1,505 |
| 56 | 170-1,532 |
| 57 | 173-1,557 |
| 58 | 176-1,582 |
| 59 | 179-1,609 |
| 60 | 182-1,634 |
| 61 | 185-1,661 |
| 62 | 187-1,687 |
| 63 | 190-1,712 |
| 64 | 193-1,739 |
| 65 | 196-1,764 |
| 66 | 199-1,791 |
| 67 | 202-1,816 |
| 68 | 205-1,841 |
| 69 | 208-1,868 |
| 70 | 210-1,894 |
| 71 | 213-1,921 |
| 72 | 216-1,946 |
| 73 | 219-1,971 |
| 74 | 222-1,998 |
| 75 | 225-2,023 |
| 76 | 228-2,050 |
| 77 | 231-2,075 |
| 78 | 233-2,101 |
| 79 | 236-2,128 |
| 80 | 239-2,153 |
| 81 | 242-2,180 |
| 82 | 245-2,205 |
| 83 | 248-2,230 |
| 84 | 251-2,257 |
| 85 | 254-2,282 |
| 86 | 257-2,309 |
| 87 | 259-2,335 |
| 88 | 262-2,360 |
| 89 | 265-2,387 |
| 90 | 268-2,412 |
| 91 | 271-2,439 |
| 92 | 274-2,464 |
| 93 | 277-2,489 |
| 94 | 280-2,516 |
| 95 | 282-2,542 |
| 96 | 285-2,569 |
| 97 | 288-2,594 |
| 98 | 291-2,619 |
| 99 | 294-2,646 |