Guard
A Mazebert TD card by Cayenne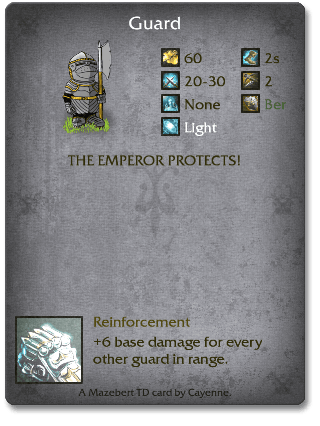 | | |
| --- | --- |
| Item level: | 1 |
| Since version: | 2.0 |
| Obtainable: | Regular card |
Changelog
s21 (2020)
Base damage for every other guard in range increased from 4 to 6.
s18 (2019)
The steadfast, loyal Guard will do anything to rise through their King's ranks. They dream of one day joining the King's Templars - the select group of knights His Highness has chosen to fight beside.
But the Guard knows that, to have any hope of joining the Templars, they must first distinguish themself in battle. That's why they welcome this latest creep siege. It offers the Guard another chance to swing their battle-axe in defense of their kingdom and their people. More importantly, it offers the Guard another chance to impress their King.
So you likely won't be surprised to hear that as the legion's trumpets sound, and the Guard's army is commanded to march upon the attacking creeps, the Guard is first off the line. Surrounded by dozens of others possessing the same ambition, the Guard steps forward to prove they are special.
Damage progression
| | |
| --- | --- |
| Level | Base damage |
| 1 | 20-30 |
| 2 | 25-37 |
| 3 | 30-44 |
| 4 | 35-53 |
| 5 | 40-60 |
| 6 | 45-67 |
| 7 | 50-74 |
| 8 | 54-82 |
| 9 | 59-89 |
| 10 | 64-96 |
| 11 | 69-103 |
| 12 | 74-110 |
| 13 | 78-118 |
| 14 | 83-125 |
| 15 | 88-132 |
| 16 | 94-140 |
| 17 | 98-148 |
| 18 | 103-155 |
| 19 | 108-162 |
| 20 | 113-169 |
| 21 | 118-176 |
| 22 | 122-184 |
| 23 | 127-191 |
| 24 | 132-198 |
| 25 | 137-205 |
| 26 | 142-212 |
| 27 | 146-220 |
| 28 | 151-227 |
| 29 | 157-235 |
| 30 | 162-242 |
| 31 | 166-250 |
| 32 | 171-257 |
| 33 | 176-264 |
| 34 | 181-271 |
| 35 | 186-278 |
| 36 | 190-286 |
| 37 | 195-293 |
| 38 | 200-300 |
| 39 | 205-307 |
| 40 | 210-314 |
| 41 | 215-323 |
| 42 | 220-330 |
| 43 | 225-337 |
| 44 | 230-344 |
| 45 | 234-352 |
| 46 | 239-359 |
| 47 | 244-366 |
| 48 | 249-373 |
| 49 | 254-380 |
| 50 | 258-388 |
| 51 | 263-395 |
| 52 | 268-402 |
| 53 | 273-409 |
| 54 | 278-418 |
| 55 | 283-425 |
| 56 | 288-432 |
| 57 | 293-439 |
| 58 | 298-446 |
| 59 | 302-454 |
| 60 | 307-461 |
| 61 | 312-468 |
| 62 | 317-475 |
| 63 | 322-482 |
| 64 | 326-490 |
| 65 | 331-497 |
| 66 | 337-505 |
| 67 | 342-512 |
| 68 | 346-520 |
| 69 | 351-527 |
| 70 | 356-534 |
| 71 | 361-541 |
| 72 | 366-548 |
| 73 | 370-556 |
| 74 | 375-563 |
| 75 | 380-570 |
| 76 | 385-577 |
| 77 | 390-584 |
| 78 | 394-592 |
| 79 | 400-600 |
| 80 | 405-607 |
| 81 | 410-614 |
| 82 | 414-622 |
| 83 | 419-629 |
| 84 | 424-636 |
| 85 | 429-643 |
| 86 | 434-650 |
| 87 | 438-658 |
| 88 | 443-665 |
| 89 | 448-672 |
| 90 | 453-679 |
| 91 | 458-688 |
| 92 | 463-695 |
| 93 | 468-702 |
| 94 | 473-709 |
| 95 | 478-716 |
| 96 | 482-724 |
| 97 | 487-731 |
| 98 | 492-738 |
| 99 | 497-745 |