King Arthur
A Mazebert TD card by SnoreFox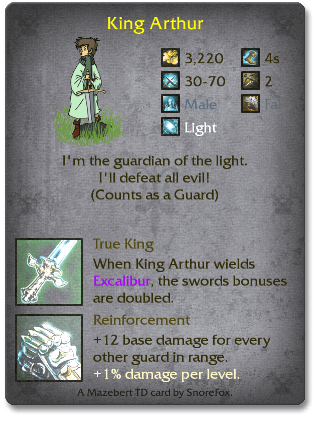 | | |
| --- | --- |
| Item level: | 80 |
| Since version: | 2.0 |
| Obtainable: | Regular card |
Changelog
s25 (2021)
Now gains 1% damage per level.
s21 (2020)
Base damage for every other guard in range increased from 6 to 12.
s18 (2019)
"I didn't ask for this job, you know," says the young King Arthur, sitting upon his throne. His head is buried in his hands. "I didn't ask for any of this."
"That," says Merlin, the King's loyal archmage and advisor, "is what has made you such a great king, my lord."
The old man places a hand upon the younger one's shoulder, and Arthur lifts his head. Despite himself, and despite his knowledge that Camelot will likely not survive this day, the boy smiles.
"In my many years advising the crown, I've seen no less than three so-called kings fail in their duty," says Merlin. "They have sought land or treasure or power simply for the sake of having those things. But being a king is not about having."
"I know," says the King. "The Lady of the Lake taught me that on my first day. Being a good king is about serving. A king must do for his people what they cannot do for themselves."
"And the kings who do this," continues Merlin. "What is their reward?"
"Their reward is that they will be remembered," recites Arthur.
"As you will be remembered," says Merlin. "As Camelot will be remembered, for time immemorial. Bards will tell tales of this siege for years to come, my king … do you really want them to say King Arthur sat in his throne room, whining about the cards fate had dealt him, while his citizens fought and died?"
"No. I intend to fight and die right alongside them. Now," says King Arthur, "help me find my sword."
Damage progression
| | |
| --- | --- |
| Level | Base damage |
| 1 | 30-70 |
| 2 | 37-87 |
| 3 | 44-104 |
| 4 | 52-120 |
| 5 | 59-137 |
| 6 | 66-154 |
| 7 | 74-172 |
| 8 | 81-189 |
| 9 | 88-206 |
| 10 | 95-223 |
| 11 | 103-239 |
| 12 | 110-256 |
| 13 | 118-274 |
| 14 | 125-291 |
| 15 | 132-308 |
| 16 | 139-325 |
| 17 | 146-342 |
| 18 | 154-358 |
| 19 | 161-377 |
| 20 | 169-393 |
| 21 | 176-410 |
| 22 | 183-427 |
| 23 | 190-444 |
| 24 | 197-461 |
| 25 | 205-477 |
| 26 | 212-496 |
| 27 | 220-512 |
| 28 | 227-529 |
| 29 | 234-546 |
| 30 | 241-563 |
| 31 | 248-580 |
| 32 | 256-598 |
| 33 | 263-615 |
| 34 | 271-631 |
| 35 | 278-648 |
| 36 | 285-665 |
| 37 | 292-682 |
| 38 | 300-700 |
| 39 | 307-717 |
| 40 | 314-734 |
| 41 | 322-750 |
| 42 | 329-767 |
| 43 | 336-784 |
| 44 | 344-802 |
| 45 | 351-819 |
| 46 | 358-836 |
| 47 | 365-853 |
| 48 | 373-869 |
| 49 | 380-886 |
| 50 | 387-903 |
| 51 | 395-921 |
| 52 | 402-938 |
| 53 | 409-955 |
| 54 | 416-972 |
| 55 | 424-988 |
| 56 | 431-1,005 |
| 57 | 439-1,023 |
| 58 | 446-1,040 |
| 59 | 453-1,057 |
| 60 | 460-1,074 |
| 61 | 467-1,091 |
| 62 | 475-1,107 |
| 63 | 482-1,126 |
| 64 | 490-1,142 |
| 65 | 497-1,159 |
| 66 | 504-1,176 |
| 67 | 511-1,193 |
| 68 | 518-1,210 |
| 69 | 526-1,228 |
| 70 | 533-1,245 |
| 71 | 541-1,261 |
| 72 | 548-1,278 |
| 73 | 555-1,295 |
| 74 | 562-1,312 |
| 75 | 569-1,329 |
| 76 | 577-1,347 |
| 77 | 584-1,364 |
| 78 | 592-1,380 |
| 79 | 599-1,397 |
| 80 | 606-1,414 |
| 81 | 613-1,431 |
| 82 | 621-1,449 |
| 83 | 628-1,466 |
| 84 | 635-1,483 |
| 85 | 643-1,499 |
| 86 | 650-1,516 |
| 87 | 657-1,533 |
| 88 | 665-1,551 |
| 89 | 672-1,568 |
| 90 | 679-1,585 |
| 91 | 686-1,602 |
| 92 | 694-1,618 |
| 93 | 701-1,635 |
| 94 | 709-1,653 |
| 95 | 716-1,670 |
| 96 | 723-1,687 |
| 97 | 730-1,704 |
| 98 | 737-1,721 |
| 99 | 745-1,737 |