Knusperhexe
A Mazebert TD card by Karo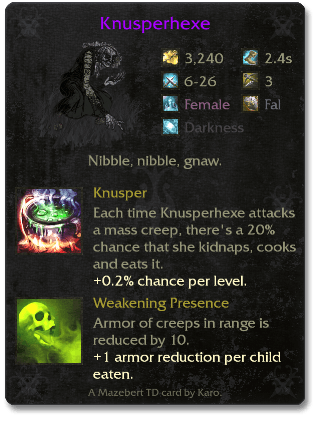 | | |
| --- | --- |
| Item level: | 72 |
| Since version: | 0.6 |
| Obtainable: | Regular card |
Changelog
s21 (2020)
Aura range is always the same as Knusperhexe's range.
s10 (2013)
A group of goblins has taken the Knusperhexe up on the all-too-enticing offer placed outside her candy cottage - a sign reading "Free Sweets for Siegers." The goblins marched far and long today. They finished their rations hours ago. So their stomachs are set to accept whatever candies, cookies, or other desserts the Knusperhexe has to offer.
"Here we are, dearies! Eat up, eat up," says the Knusperhexe, placing a pair of sugar-crusted fruit pies on the table in front of the goblins. Unable to help themselves, the goblins grab at the pies and stuff their mouths. Unable to help herself, the Knusperhexe smiles.
"You'll be ruling this land soon," says the Knusperhexe, her voice drawn and scratchy yet still comforting. "Then, you'll need all the energy you can get. So eat up, eat up, eat it all, my dearies. I have more where that came from."
And indeed, the Knusperhexe does have more. She has chocolate butterscotch cookies. She has jelly beans. She has gingerbread men and sticky buns and chewy peppermints. The goblins fill themselves to bursting and then, their stomachs and spirits swollen, they pass out beside the Knusperhexe's fire.
Which is convenient, as it saves the Knusperhexe the trouble of carrying them there.
"Oh no, my dearies," says the Knusperhexe, softly. Carefully, she steps among the sleeping goblins, sizing up each one. "It seems you've eaten all my food. But that's okay. Don't worry. I'm sure I can make do with whatever I find lying around."
Damage progression
| | |
| --- | --- |
| Level | Base damage |
| 1 | 6-26 |
| 2 | 8-32 |
| 3 | 10-38 |
| 4 | 11-45 |
| 5 | 13-51 |
| 6 | 14-58 |
| 7 | 16-62 |
| 8 | 17-69 |
| 9 | 19-75 |
| 10 | 20-82 |
| 11 | 22-88 |
| 12 | 24-94 |
| 13 | 25-99 |
| 14 | 26-106 |
| 15 | 28-112 |
| 16 | 30-118 |
| 17 | 31-125 |
| 18 | 33-131 |
| 19 | 34-136 |
| 20 | 36-142 |
| 21 | 37-149 |
| 22 | 39-155 |
| 23 | 40-162 |
| 24 | 42-168 |
| 25 | 44-174 |
| 26 | 45-179 |
| 27 | 46-186 |
| 28 | 48-192 |
| 29 | 50-198 |
| 30 | 51-205 |
| 31 | 53-211 |
| 32 | 54-216 |
| 33 | 56-222 |
| 34 | 57-229 |
| 35 | 59-235 |
| 36 | 60-242 |
| 37 | 62-248 |
| 38 | 63-253 |
| 39 | 65-259 |
| 40 | 66-266 |
| 41 | 68-272 |
| 42 | 70-278 |
| 43 | 71-285 |
| 44 | 72-290 |
| 45 | 74-296 |
| 46 | 76-302 |
| 47 | 77-309 |
| 48 | 79-315 |
| 49 | 80-322 |
| 50 | 82-328 |
| 51 | 83-333 |
| 52 | 85-339 |
| 53 | 86-346 |
| 54 | 88-352 |
| 55 | 90-358 |
| 56 | 91-365 |
| 57 | 92-370 |
| 58 | 94-376 |
| 59 | 96-382 |
| 60 | 97-389 |
| 61 | 99-395 |
| 62 | 100-402 |
| 63 | 102-406 |
| 64 | 103-413 |
| 65 | 105-419 |
| 66 | 106-426 |
| 67 | 108-432 |
| 68 | 110-438 |
| 69 | 111-443 |
| 70 | 112-450 |
| 71 | 114-456 |
| 72 | 116-462 |
| 73 | 117-469 |
| 74 | 119-475 |
| 75 | 120-482 |
| 76 | 122-486 |
| 77 | 123-493 |
| 78 | 125-499 |
| 79 | 126-506 |
| 80 | 128-512 |
| 81 | 130-518 |
| 82 | 131-523 |
| 83 | 132-530 |
| 84 | 134-536 |
| 85 | 136-542 |
| 86 | 137-549 |
| 87 | 139-555 |
| 88 | 140-560 |
| 89 | 142-566 |
| 90 | 143-573 |
| 91 | 145-579 |
| 92 | 146-586 |
| 93 | 148-592 |
| 94 | 149-597 |
| 95 | 151-603 |
| 96 | 152-610 |
| 97 | 154-616 |
| 98 | 156-622 |
| 99 | 157-629 |