Mr. Iron
A Mazebert TD card by Rafael Flaig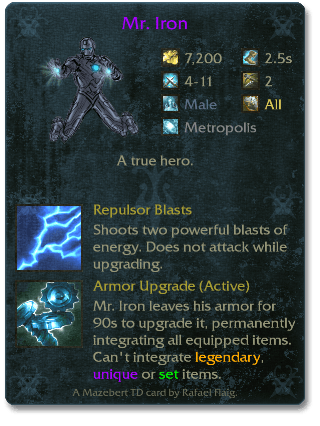 | | |
| --- | --- |
| Item level: | 67 |
| Since version: | 0.9 |
| Obtainable: | Regular card |
Changelog
s21 (2020)
Dark Forge items cannot steal more experience than gained.
In particular, Mr. Iron cannot loose experience through dark items anymore.
s13 (2019)
Rarity changed from rare to unique.
s10 (2014)
In the skies above Metropolis, Mr. Iron is outmatched. He is surrounded, and his armor has been savaged by entirely too many dragons. At his feet, the Plated Paladin's thrusters stutter.
"Reserve power is at 3%," says J.E.E.V.E.S., Mr. Iron's onboard A.I. The percentage flashes critically on Mr. Iron's heads-up display. "Sir, you really ought to retreat. I, personally, would like to survive this day."
"You're backed up on the mansion's servers," says Mr. Iron. He fires a pair of repulsor blasts into the throng of dragons; the blasts have no effect. "I'm the only one of us who's going to die today."
"I would prefer that you survived as well," says J.E.E.V.E.S.
"Me too," says Mr. Iron. "So how do we make that happen?"
"Thinking," says J.E.E.V.E.S.
In the seconds J.E.E.V.E.S. spends thinking, Mr. Iron dodges three dragons' attempts to eat and/or maul him. One of the dragons rips away a piece of Mr. Iron's chest plate. His armor's power level falls to 2%.
"After reviewing the contents of your armory," says J.E.E.V.E.S., "and modeling its efficacy against the dragons, I can suggest only this: That we try everything."
"Alright," says Mr. Iron. "Then let's try everything."
In the workshop below his mansion, every piece of armor Mr. Iron has ever built activates at once. Rocket-powered roller skates, giga-buster gauntlets, underwater breathing apparatuses, anti-magic shields, and more combine to form wild variants of Mr. Iron armor. Each new suit then takes to the sky, summoned to save its master.
"Okay," says Mr. Iron, shedding his current armor and falling into the first new suit to arrive. "They brought an army. And now, we've brought an army."
"Yes," says J.E.E.V.E.S. "New suit power is at 100%. You have access to nanolasers, freeze rays, infrared imaging, and sonic scramblers. I am autonomously operating thirty additional suits of armor."
"Perfect," says Mr. Iron. "Now, let's show these creeps what I'm made of."
Damage progression
| | |
| --- | --- |
| Level | Base damage |
| 1 | 4-11 |
| 2 | 5-14 |
| 3 | 6-17 |
| 4 | 6-18 |
| 5 | 7-21 |
| 6 | 8-23 |
| 7 | 9-26 |
| 8 | 10-29 |
| 9 | 10-30 |
| 10 | 11-33 |
| 11 | 12-35 |
| 12 | 13-38 |
| 13 | 14-41 |
| 14 | 14-42 |
| 15 | 15-45 |
| 16 | 16-47 |
| 17 | 17-50 |
| 18 | 18-53 |
| 19 | 18-54 |
| 20 | 19-57 |
| 21 | 20-59 |
| 22 | 21-62 |
| 23 | 22-65 |
| 24 | 22-66 |
| 25 | 23-69 |
| 26 | 24-71 |
| 27 | 25-74 |
| 28 | 26-77 |
| 29 | 26-78 |
| 30 | 27-81 |
| 31 | 28-83 |
| 32 | 29-86 |
| 33 | 30-89 |
| 34 | 30-90 |
| 35 | 31-93 |
| 36 | 32-95 |
| 37 | 33-98 |
| 38 | 34-101 |
| 39 | 34-102 |
| 40 | 35-105 |
| 41 | 36-107 |
| 42 | 37-110 |
| 43 | 38-113 |
| 44 | 38-114 |
| 45 | 39-117 |
| 46 | 40-119 |
| 47 | 41-122 |
| 48 | 42-125 |
| 49 | 42-126 |
| 50 | 43-129 |
| 51 | 44-131 |
| 52 | 45-134 |
| 53 | 46-137 |
| 54 | 46-138 |
| 55 | 47-141 |
| 56 | 48-143 |
| 57 | 49-146 |
| 58 | 50-149 |
| 59 | 50-150 |
| 60 | 51-153 |
| 61 | 52-155 |
| 62 | 53-158 |
| 63 | 54-161 |
| 64 | 54-162 |
| 65 | 55-165 |
| 66 | 56-167 |
| 67 | 57-170 |
| 68 | 58-173 |
| 69 | 58-174 |
| 70 | 59-177 |
| 71 | 60-179 |
| 72 | 61-182 |
| 73 | 62-185 |
| 74 | 62-186 |
| 75 | 63-189 |
| 76 | 64-191 |
| 77 | 65-194 |
| 78 | 66-197 |
| 79 | 66-198 |
| 80 | 67-201 |
| 81 | 68-203 |
| 82 | 69-206 |
| 83 | 70-209 |
| 84 | 70-210 |
| 85 | 71-213 |
| 86 | 72-215 |
| 87 | 73-218 |
| 88 | 74-221 |
| 89 | 74-222 |
| 90 | 75-225 |
| 91 | 76-227 |
| 92 | 77-230 |
| 93 | 78-233 |
| 94 | 78-234 |
| 95 | 79-237 |
| 96 | 80-239 |
| 97 | 81-242 |
| 98 | 82-245 |
| 99 | 82-246 |