Rainbow Unicorn
A Mazebert TD card by Andy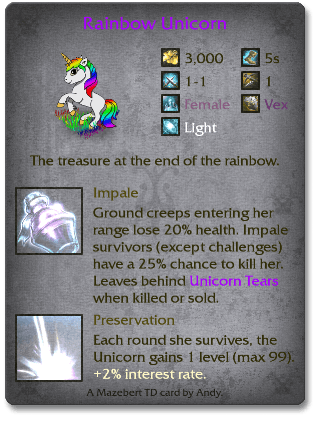 | | |
| --- | --- |
| Item level: | 50 |
| Since version: | 2.0 |
| Obtainable: | Regular card |
Changelog
s22 (2020)
Unicorn can be sold for Unicorn Tears. Training Hologram creeps cannot kill Unicorn.
s18 (2019)
Sorcerers throughout Light's lands disagree about whether friendship is actually magic. (A number of studies are still outstanding.) However, they all agree that the Rainbow Unicorn certainly is.
This strange, fierce creature is as loyal as she is strong, and as cunning as she is brave. With her powerful hooves, majestic horn, and stubborn determination, she has held back wave upon wave of creeps, outfighting all Light's Guards and Templars. In return, all the Unicorn has asked for is some cider, some well-decorated cupcakes, and the kingdom's friendship.
Because despite what Light's sorcerers might think, the Rainbow Unicorn knows that friendship is magic. She knows this just as well as she knows that she cannot fight on forever. Eventually, the Rainbow Unicorn will fall, and only a true friend will be able to benefit from the magical Unicorn Tears she leaves behind. The Tears will pass the Unicorn's strength of spirit on to those who stand fighting - and perhaps, finally end the sorcerers' debate.
Damage progression
| | |
| --- | --- |
| Level | Base damage |
| 1 | 1-1 |
| 2 | 1-1 |
| 3 | 1-1 |
| 4 | 1-1 |
| 5 | 1-1 |
| 6 | 1-1 |
| 7 | 1-1 |
| 8 | 1-1 |
| 9 | 1-1 |
| 10 | 1-1 |
| 11 | 1-1 |
| 12 | 1-1 |
| 13 | 1-1 |
| 14 | 1-1 |
| 15 | 1-1 |
| 16 | 1-1 |
| 17 | 1-1 |
| 18 | 1-1 |
| 19 | 1-1 |
| 20 | 1-1 |
| 21 | 1-1 |
| 22 | 1-1 |
| 23 | 1-1 |
| 24 | 1-1 |
| 25 | 1-1 |
| 26 | 1-1 |
| 27 | 1-1 |
| 28 | 1-1 |
| 29 | 1-1 |
| 30 | 1-1 |
| 31 | 1-1 |
| 32 | 1-1 |
| 33 | 1-1 |
| 34 | 1-1 |
| 35 | 1-1 |
| 36 | 1-1 |
| 37 | 1-1 |
| 38 | 1-1 |
| 39 | 1-1 |
| 40 | 1-1 |
| 41 | 1-1 |
| 42 | 1-1 |
| 43 | 1-1 |
| 44 | 1-1 |
| 45 | 1-1 |
| 46 | 1-1 |
| 47 | 1-1 |
| 48 | 1-1 |
| 49 | 1-1 |
| 50 | 1-1 |
| 51 | 1-1 |
| 52 | 1-1 |
| 53 | 1-1 |
| 54 | 1-1 |
| 55 | 1-1 |
| 56 | 1-1 |
| 57 | 1-1 |
| 58 | 1-1 |
| 59 | 1-1 |
| 60 | 1-1 |
| 61 | 1-1 |
| 62 | 1-1 |
| 63 | 1-1 |
| 64 | 1-1 |
| 65 | 1-1 |
| 66 | 1-1 |
| 67 | 1-1 |
| 68 | 1-1 |
| 69 | 1-1 |
| 70 | 1-1 |
| 71 | 1-1 |
| 72 | 1-1 |
| 73 | 1-1 |
| 74 | 1-1 |
| 75 | 1-1 |
| 76 | 1-1 |
| 77 | 1-1 |
| 78 | 1-1 |
| 79 | 1-1 |
| 80 | 1-1 |
| 81 | 1-1 |
| 82 | 1-1 |
| 83 | 1-1 |
| 84 | 1-1 |
| 85 | 1-1 |
| 86 | 1-1 |
| 87 | 1-1 |
| 88 | 1-1 |
| 89 | 1-1 |
| 90 | 1-1 |
| 91 | 1-1 |
| 92 | 1-1 |
| 93 | 1-1 |
| 94 | 1-1 |
| 95 | 1-1 |
| 96 | 1-1 |
| 97 | 1-1 |
| 98 | 1-1 |
| 99 | 1-1 |