Scarface
A Mazebert TD card by Nomad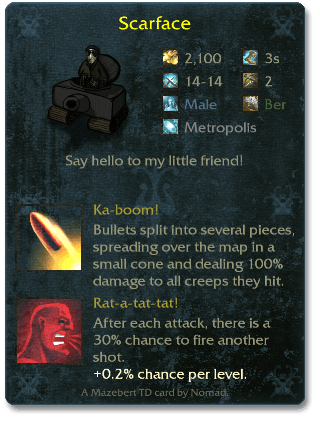 | | |
| --- | --- |
| Item level: | 50 |
| Since version: | 0.9 |
| Obtainable: | Regular card |
Changelog
s21 (2020)
Increased base damage by 32%.
Reduced chance per level from 0.3% to 0.2%.
s10 (2014)
Scarface's estate has been overrun by creeps, but the crime lord is not worried. Because the creeps have brought knives to what Scarface knows is a gun fight.
"Oh, ok," says Scarface, speaking to himself, the air, and his gun just as much as the creeps massing outside his office door. "You creeps wanna play games? You wanna play ROUGH?!"
The gangster cocks his Colt AR-15 and readies the grenade launcher mounted along the rifle's bottom. Then, he takes position behind the door.
"Ok!" shouts Scarface. "Say hello to my little friend!"
Scarface fires a grenade into his own door, blowing it backward and scattering the creeps that had gathered behind it. The creeps caught in the blast fall to the ground, dead or dying, but Scarface keeps shooting them, spraying bullets into their bodies with reckless abandon.
"You want more?" shouts Scarface, still shooting. "Hey! You want some more?"
The remaining creeps most certainly do not want more. Having seen how outmatched they are, most have already chosen to flee Scarface's estate. As they scatter, Scarface takes pleasure in mowing down as many of them as possible - and in painting the marbled floor of his estate blood red.
Damage progression
| | |
| --- | --- |
| Level | Base damage |
| 1 | 14-14 |
| 2 | 17-17 |
| 3 | 20-20 |
| 4 | 23-23 |
| 5 | 26-26 |
| 6 | 30-30 |
| 7 | 33-33 |
| 8 | 36-36 |
| 9 | 39-39 |
| 10 | 42-42 |
| 11 | 45-45 |
| 12 | 49-49 |
| 13 | 52-52 |
| 14 | 55-55 |
| 15 | 58-58 |
| 16 | 61-61 |
| 17 | 64-64 |
| 18 | 68-68 |
| 19 | 71-71 |
| 20 | 74-74 |
| 21 | 77-77 |
| 22 | 80-80 |
| 23 | 83-83 |
| 24 | 87-87 |
| 25 | 90-90 |
| 26 | 93-93 |
| 27 | 96-96 |
| 28 | 99-99 |
| 29 | 102-102 |
| 30 | 106-106 |
| 31 | 109-109 |
| 32 | 112-112 |
| 33 | 115-115 |
| 34 | 118-118 |
| 35 | 121-121 |
| 36 | 125-125 |
| 37 | 128-128 |
| 38 | 131-131 |
| 39 | 134-134 |
| 40 | 137-137 |
| 41 | 140-140 |
| 42 | 144-144 |
| 43 | 147-147 |
| 44 | 150-150 |
| 45 | 153-153 |
| 46 | 156-156 |
| 47 | 159-159 |
| 48 | 163-163 |
| 49 | 166-166 |
| 50 | 169-169 |
| 51 | 172-172 |
| 52 | 175-175 |
| 53 | 178-178 |
| 54 | 182-182 |
| 55 | 185-185 |
| 56 | 188-188 |
| 57 | 191-191 |
| 58 | 194-194 |
| 59 | 197-197 |
| 60 | 201-201 |
| 61 | 204-204 |
| 62 | 207-207 |
| 63 | 210-210 |
| 64 | 213-213 |
| 65 | 216-216 |
| 66 | 220-220 |
| 67 | 223-223 |
| 68 | 226-226 |
| 69 | 229-229 |
| 70 | 232-232 |
| 71 | 235-235 |
| 72 | 239-239 |
| 73 | 242-242 |
| 74 | 245-245 |
| 75 | 248-248 |
| 76 | 251-251 |
| 77 | 254-254 |
| 78 | 258-258 |
| 79 | 261-261 |
| 80 | 264-264 |
| 81 | 267-267 |
| 82 | 270-270 |
| 83 | 273-273 |
| 84 | 277-277 |
| 85 | 280-280 |
| 86 | 283-283 |
| 87 | 286-286 |
| 88 | 289-289 |
| 89 | 292-292 |
| 90 | 296-296 |
| 91 | 299-299 |
| 92 | 302-302 |
| 93 | 305-305 |
| 94 | 308-308 |
| 95 | 311-311 |
| 96 | 315-315 |
| 97 | 318-318 |
| 98 | 321-321 |
| 99 | 324-324 |