Scientist
A Mazebert TD card by Andy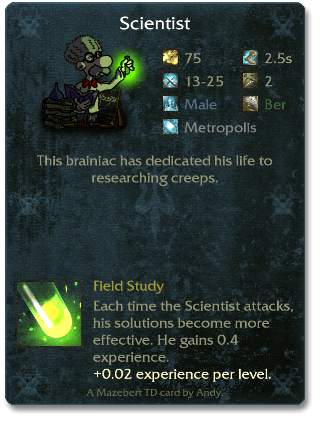 | | |
| --- | --- |
| Item level: | 1 |
| Since version: | 0.3 |
| Obtainable: | Regular card |
Changelog
s10 (2013)
The Scientist assembles and throws another vial of his glowing green potion, then quickly grabs his voice recorder. He wants to document the potion's efficacy as accurately as possible.
"And there goes Potion 374," says the Scientist, as the vial lands and cracks open upon an unsuspecting creep. Covered in potion, the creep screams and falls to the ground. Which is surely a success, but the Scientist is not satisfied.
"Judging by the heightened tenor of the subject's screams, this potion inflicted much more damage," says the Scientist. "But it did not affect the subject as quickly as I'd hoped. I wonder … "
The Scientist pockets his recorder and pulls three vials from his lab coat. Mixing the liquids within the vials carefully, he produces a new potion - one that should achieve his desired result.
"Yes, this just might do it," says the Scientist. Nervously, he hurls his new potion at a creep and again grabs his voice recorder. Before he can press Record, the stricken creep falls dead.
"Success!" says the Scientist. "Potion 375 is both lethal and fast-acting … but I wonder, could it act faster still?"
Discontent with perfection, the Scientist continues his research.
Damage progression
| | |
| --- | --- |
| Level | Base damage |
| 1 | 13-25 |
| 2 | 16-30 |
| 3 | 19-35 |
| 4 | 22-42 |
| 5 | 25-47 |
| 6 | 29-53 |
| 7 | 31-59 |
| 8 | 34-64 |
| 9 | 38-70 |
| 10 | 41-75 |
| 11 | 44-82 |
| 12 | 47-87 |
| 13 | 50-92 |
| 14 | 53-99 |
| 15 | 56-104 |
| 16 | 59-111 |
| 17 | 62-116 |
| 18 | 65-121 |
| 19 | 69-127 |
| 20 | 71-133 |
| 21 | 75-139 |
| 22 | 78-144 |
| 23 | 80-150 |
| 24 | 84-156 |
| 25 | 87-161 |
| 26 | 90-168 |
| 27 | 93-173 |
| 28 | 96-178 |
| 29 | 99-185 |
| 30 | 102-190 |
| 31 | 106-196 |
| 32 | 108-202 |
| 33 | 111-207 |
| 34 | 115-213 |
| 35 | 118-218 |
| 36 | 121-225 |
| 37 | 124-230 |
| 38 | 127-235 |
| 39 | 130-242 |
| 40 | 133-247 |
| 41 | 136-254 |
| 42 | 139-259 |
| 43 | 142-264 |
| 44 | 146-270 |
| 45 | 148-276 |
| 46 | 152-282 |
| 47 | 155-287 |
| 48 | 157-293 |
| 49 | 161-299 |
| 50 | 164-304 |
| 51 | 167-311 |
| 52 | 170-316 |
| 53 | 173-321 |
| 54 | 176-328 |
| 55 | 179-333 |
| 56 | 183-339 |
| 57 | 185-345 |
| 58 | 188-350 |
| 59 | 192-356 |
| 60 | 195-361 |
| 61 | 198-368 |
| 62 | 201-373 |
| 63 | 204-378 |
| 64 | 207-385 |
| 65 | 210-390 |
| 66 | 213-397 |
| 67 | 216-402 |
| 68 | 219-407 |
| 69 | 223-413 |
| 70 | 225-419 |
| 71 | 229-425 |
| 72 | 232-430 |
| 73 | 234-436 |
| 74 | 238-442 |
| 75 | 241-447 |
| 76 | 244-454 |
| 77 | 247-459 |
| 78 | 250-464 |
| 79 | 253-471 |
| 80 | 256-476 |
| 81 | 260-482 |
| 82 | 262-488 |
| 83 | 265-493 |
| 84 | 269-499 |
| 85 | 272-504 |
| 86 | 275-511 |
| 87 | 278-516 |
| 88 | 281-521 |
| 89 | 284-528 |
| 90 | 287-533 |
| 91 | 290-540 |
| 92 | 293-545 |
| 93 | 296-550 |
| 94 | 300-556 |
| 95 | 302-562 |
| 96 | 306-568 |
| 97 | 309-573 |
| 98 | 311-579 |
| 99 | 315-585 |