Shadow
A Mazebert TD card by Grunky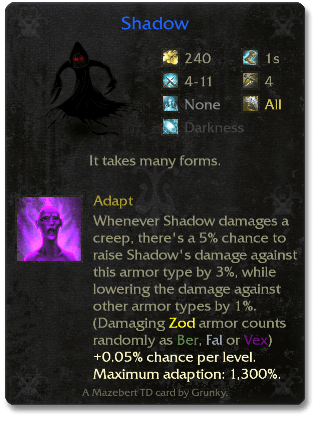 | | |
| --- | --- |
| Item level: | 1 |
| Since version: | 0.7 |
| Obtainable: | Regular card |
Changelog
s21 (2020)
Increase maximum adaption from 700% to 1300%
s10 (2013)
While no two creeps can agree on a description of the Shadows, all fear them. Which is why, for the last two nights, the creep army has called a halt at nightfall, rather than continue advancing through Darkness's lands.
As they gather around their hastily-built campfires, the creeps swap stories of what they've seen the nights before. In their way, the creeps attempt to make sense of the Shadows.
"I'm telling you," says one creep, "the thing had eight arms and eight legs. And it was massive. It looked almost like two giant spiders sewn together."
"You must've been scared witless," says another, "because it looked nothing like that. It looked like a warrior woman. The fiercest lady I've ever seen; the fire in her eyes set me running. That's what you saw, right, Carl?"
"No," mumbles Carl the Creep. "I saw a woman … but it was my Aunt Petunia."
Carl's admission sets the creeps laughing, and though none would admit it, all of them understand that their laughter, their fire, and their stories are meant to serve as shields. They are meant to keep the Shadows away.
But, unwittingly, the creeps have actually summoned the Shadows to them. For laughter calls them, fires cast them, and stories … stories fuel the Shadows.
Damage progression
| | |
| --- | --- |
| Level | Base damage |
| 1 | 4-11 |
| 2 | 5-14 |
| 3 | 6-17 |
| 4 | 6-18 |
| 5 | 7-21 |
| 6 | 8-23 |
| 7 | 9-26 |
| 8 | 10-29 |
| 9 | 10-30 |
| 10 | 11-33 |
| 11 | 12-35 |
| 12 | 13-38 |
| 13 | 14-41 |
| 14 | 14-42 |
| 15 | 15-45 |
| 16 | 16-47 |
| 17 | 17-50 |
| 18 | 18-53 |
| 19 | 18-54 |
| 20 | 19-57 |
| 21 | 20-59 |
| 22 | 21-62 |
| 23 | 22-65 |
| 24 | 22-66 |
| 25 | 23-69 |
| 26 | 24-71 |
| 27 | 25-74 |
| 28 | 26-77 |
| 29 | 26-78 |
| 30 | 27-81 |
| 31 | 28-83 |
| 32 | 29-86 |
| 33 | 30-89 |
| 34 | 30-90 |
| 35 | 31-93 |
| 36 | 32-95 |
| 37 | 33-98 |
| 38 | 34-101 |
| 39 | 34-102 |
| 40 | 35-105 |
| 41 | 36-107 |
| 42 | 37-110 |
| 43 | 38-113 |
| 44 | 38-114 |
| 45 | 39-117 |
| 46 | 40-119 |
| 47 | 41-122 |
| 48 | 42-125 |
| 49 | 42-126 |
| 50 | 43-129 |
| 51 | 44-131 |
| 52 | 45-134 |
| 53 | 46-137 |
| 54 | 46-138 |
| 55 | 47-141 |
| 56 | 48-143 |
| 57 | 49-146 |
| 58 | 50-149 |
| 59 | 50-150 |
| 60 | 51-153 |
| 61 | 52-155 |
| 62 | 53-158 |
| 63 | 54-161 |
| 64 | 54-162 |
| 65 | 55-165 |
| 66 | 56-167 |
| 67 | 57-170 |
| 68 | 58-173 |
| 69 | 58-174 |
| 70 | 59-177 |
| 71 | 60-179 |
| 72 | 61-182 |
| 73 | 62-185 |
| 74 | 62-186 |
| 75 | 63-189 |
| 76 | 64-191 |
| 77 | 65-194 |
| 78 | 66-197 |
| 79 | 66-198 |
| 80 | 67-201 |
| 81 | 68-203 |
| 82 | 69-206 |
| 83 | 70-209 |
| 84 | 70-210 |
| 85 | 71-213 |
| 86 | 72-215 |
| 87 | 73-218 |
| 88 | 74-221 |
| 89 | 74-222 |
| 90 | 75-225 |
| 91 | 76-227 |
| 92 | 77-230 |
| 93 | 78-233 |
| 94 | 78-234 |
| 95 | 79-237 |
| 96 | 80-239 |
| 97 | 81-242 |
| 98 | 82-245 |
| 99 | 82-246 |