Templar
A Mazebert TD card by shimakura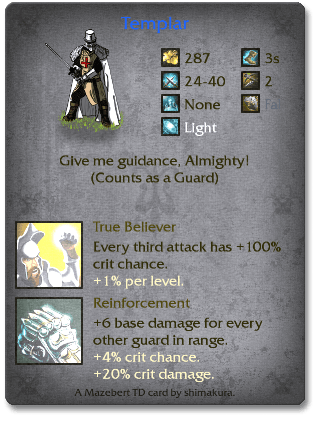 | | |
| --- | --- |
| Item level: | 1 |
| Since version: | 2.0 |
| Obtainable: | Regular card |
Changelog
s21 (2020)
Base damage for every other guard in range increased from 4 to 6.
s18 (2019)
The Templar fights for three things: his God, his King, and his kingdom. Today, all three are in jeopardy.
Godless creeps have overrun the castle city of Camelot, overwhelming both the Templars and the King's guard. This particular Templar has fought for three days without rest, but even his strength is not enough. The siege shows no sign of stopping. The creeps show no sign of retreat.
And the Templar is about to fall.
A hard strike to the back of the Templar's knees sends him to the ground. A mace to the head ensures he stays there. Lying prone, the Templar attempts to push against Camelot's cobblestones. To draw strength from his city and use that strength to stand.
But the creeps' blows are too fierce and too many. Alone, the Templar cannot stand. Alone, the Templar cannot survive.
Which is why it's good that the Templar is not alone.
"Back, heathens!" The creeps attacking the Templar scatter and, as they part, the Templar catches a view of his fellows. After driving off the last of the creeps, the Templar's brothers help him stand.
"Come now," says one of the Templar's brothers. "Get on your feet."
"Yes," says another. "Can't you feel it?"
"I can," says the Templar, standing. "For a moment, I thought the Lord meant me to die here, alone. But instead, He sent my brothers. Which means He has more work for me to do."
Damage progression
| | |
| --- | --- |
| Level | Base damage |
| 1 | 24-40 |
| 2 | 29-49 |
| 3 | 35-59 |
| 4 | 41-69 |
| 5 | 47-78 |
| 6 | 53-88 |
| 7 | 59-98 |
| 8 | 64-106 |
| 9 | 70-116 |
| 10 | 76-126 |
| 11 | 82-136 |
| 12 | 87-145 |
| 13 | 93-155 |
| 14 | 99-165 |
| 15 | 104-174 |
| 16 | 110-184 |
| 17 | 116-194 |
| 18 | 122-203 |
| 19 | 128-213 |
| 20 | 134-223 |
| 21 | 139-231 |
| 22 | 145-241 |
| 23 | 151-251 |
| 24 | 156-260 |
| 25 | 162-270 |
| 26 | 168-280 |
| 27 | 173-289 |
| 28 | 179-299 |
| 29 | 185-309 |
| 30 | 191-318 |
| 31 | 197-328 |
| 32 | 203-338 |
| 33 | 208-346 |
| 34 | 214-356 |
| 35 | 220-366 |
| 36 | 226-376 |
| 37 | 231-385 |
| 38 | 237-395 |
| 39 | 243-405 |
| 40 | 248-414 |
| 41 | 254-424 |
| 42 | 260-434 |
| 43 | 266-443 |
| 44 | 272-453 |
| 45 | 278-463 |
| 46 | 283-471 |
| 47 | 289-481 |
| 48 | 295-491 |
| 49 | 300-500 |
| 50 | 306-510 |
| 51 | 312-520 |
| 52 | 317-529 |
| 53 | 323-539 |
| 54 | 329-549 |
| 55 | 335-558 |
| 56 | 341-568 |
| 57 | 347-578 |
| 58 | 352-586 |
| 59 | 358-596 |
| 60 | 364-606 |
| 61 | 370-616 |
| 62 | 375-625 |
| 63 | 381-635 |
| 64 | 387-645 |
| 65 | 392-654 |
| 66 | 398-664 |
| 67 | 404-674 |
| 68 | 410-683 |
| 69 | 416-693 |
| 70 | 422-703 |
| 71 | 427-711 |
| 72 | 433-721 |
| 73 | 439-731 |
| 74 | 444-740 |
| 75 | 450-750 |
| 76 | 456-760 |
| 77 | 461-769 |
| 78 | 467-779 |
| 79 | 473-789 |
| 80 | 479-798 |
| 81 | 485-808 |
| 82 | 491-818 |
| 83 | 496-826 |
| 84 | 502-836 |
| 85 | 508-846 |
| 86 | 514-856 |
| 87 | 519-865 |
| 88 | 525-875 |
| 89 | 531-885 |
| 90 | 536-894 |
| 91 | 542-904 |
| 92 | 548-914 |
| 93 | 554-923 |
| 94 | 560-933 |
| 95 | 566-943 |
| 96 | 571-951 |
| 97 | 577-961 |
| 98 | 583-971 |
| 99 | 588-980 |