The Dark Forge
A Mazebert TD card by florieger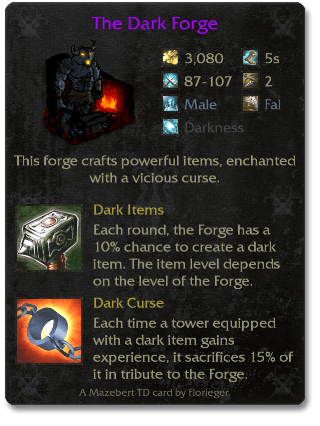 | | |
| --- | --- |
| Item level: | 60 |
| Since version: | 0.7 |
| Obtainable: | Regular card |
Changelog
s10 (2013)
Deep within the bowels of the Underworld, the Forgemaster stokes the fires of his Dark Forge. The Forge's flames burn orange and red and black; smoke and screaming spirits escape it. As the spirits' cries reach a fever pitch, the Forgemaster plunges a length of dark steel into the Forge. First the steel's edges and then its body begin to glow a bright and hellish shade of orange.
Satisfied that the Forge has completed its work, the Forgemaster removes the now-bright metal from the fire. He places it upon his anvil and, using an ancient, rune-inscribed hammer, begins beating the steel into the shape of a blade. As the metal cools and regains its original color, the Forgemaster notices the spirits trapped within it. They dance beneath the blade's curves and edges, never lingering too long within the Forgemaster's gaze.
Those spirits will, eventually, steal the life force from this blade's wielder. And that life force will keep the Dark Forge lit. The Forgemaster hopes to one day craft a single blade capable of keeping the Dark Forge lit forever. But until that day comes, he's content to tinker, and to keep sending his many Dark Items into the world - where he knows they'll be used by the downtrodden, the desperate, and those who should know better.
Damage progression
| | |
| --- | --- |
| Level | Base damage |
| 1 | 87-107 |
| 2 | 109-133 |
| 3 | 130-160 |
| 4 | 152-186 |
| 5 | 174-212 |
| 6 | 195-239 |
| 7 | 217-265 |
| 8 | 238-292 |
| 9 | 260-318 |
| 10 | 282-344 |
| 11 | 303-371 |
| 12 | 325-397 |
| 13 | 346-424 |
| 14 | 368-450 |
| 15 | 390-476 |
| 16 | 411-503 |
| 17 | 433-529 |
| 18 | 454-556 |
| 19 | 476-582 |
| 20 | 498-608 |
| 21 | 519-635 |
| 22 | 541-661 |
| 23 | 562-688 |
| 24 | 584-714 |
| 25 | 606-740 |
| 26 | 627-767 |
| 27 | 649-793 |
| 28 | 670-820 |
| 29 | 692-846 |
| 30 | 714-872 |
| 31 | 735-899 |
| 32 | 757-925 |
| 33 | 778-952 |
| 34 | 800-978 |
| 35 | 822-1,004 |
| 36 | 843-1,031 |
| 37 | 865-1,057 |
| 38 | 886-1,084 |
| 39 | 908-1,110 |
| 40 | 930-1,136 |
| 41 | 951-1,163 |
| 42 | 973-1,189 |
| 43 | 994-1,216 |
| 44 | 1,016-1,242 |
| 45 | 1,038-1,268 |
| 46 | 1,059-1,295 |
| 47 | 1,081-1,321 |
| 48 | 1,102-1,348 |
| 49 | 1,124-1,374 |
| 50 | 1,146-1,400 |
| 51 | 1,167-1,427 |
| 52 | 1,189-1,453 |
| 53 | 1,210-1,480 |
| 54 | 1,232-1,506 |
| 55 | 1,254-1,532 |
| 56 | 1,275-1,559 |
| 57 | 1,297-1,585 |
| 58 | 1,318-1,612 |
| 59 | 1,340-1,638 |
| 60 | 1,362-1,664 |
| 61 | 1,383-1,691 |
| 62 | 1,405-1,717 |
| 63 | 1,426-1,744 |
| 64 | 1,448-1,770 |
| 65 | 1,470-1,796 |
| 66 | 1,491-1,823 |
| 67 | 1,513-1,849 |
| 68 | 1,534-1,876 |
| 69 | 1,556-1,902 |
| 70 | 1,578-1,928 |
| 71 | 1,599-1,955 |
| 72 | 1,621-1,981 |
| 73 | 1,642-2,008 |
| 74 | 1,664-2,034 |
| 75 | 1,686-2,060 |
| 76 | 1,707-2,087 |
| 77 | 1,729-2,113 |
| 78 | 1,750-2,140 |
| 79 | 1,772-2,166 |
| 80 | 1,794-2,192 |
| 81 | 1,815-2,219 |
| 82 | 1,837-2,245 |
| 83 | 1,858-2,272 |
| 84 | 1,880-2,298 |
| 85 | 1,902-2,324 |
| 86 | 1,923-2,351 |
| 87 | 1,945-2,377 |
| 88 | 1,966-2,404 |
| 89 | 1,988-2,430 |
| 90 | 2,010-2,456 |
| 91 | 2,031-2,483 |
| 92 | 2,053-2,509 |
| 93 | 2,074-2,536 |
| 94 | 2,096-2,562 |
| 95 | 2,118-2,588 |
| 96 | 2,139-2,615 |
| 97 | 2,161-2,641 |
| 98 | 2,182-2,668 |
| 99 | 2,204-2,694 |