Yggdrasil
A Mazebert TD card by Andy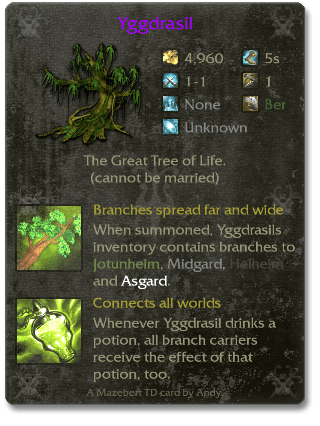 | | |
| --- | --- |
| Item level: | 77 |
| Since version: | 2.1 |
| Obtainable: | Regular card |
Changelog
s25 (2021)
Yggdrasil cannot be married
s21 (2020)
Element changed from Nature to Unknown
Yggdrasil can drop no matter what elements you choose
There is one branch per element, connecting the norse worlds Jotunheim (Nature), Midgard (Metro), Helheim (Darkness) and Asgard (Light)
Yggdrasil is not affected by branches in its inventory
s10 (2019)
Through the center of this and every world grows Yggdrasil, the Tree of Life. While this mighty, massive tree might seem immortal, the Norns who care for it know that it is not. Yggdrasil feels the pain inflicted upon each world it is connected to and, right now, the tree is being assaulted on four fronts at once.
But Gullinkambi, the all-dark rooster who sits among Yggdrasil's highest branches, has not yet crowed Ragnarök. So the Norns know the worlds' ultimate fate can still be delayed, and thus, they harm Yggdrasil just a bit more in hopes of protecting it. They clip four small branches from Yggdrasil's base and send them to each of the four worlds now under assault: Jotunheim, Midgard, Helheim, and Asgard.
The branches are enchanted such that when the Norns water Yggdrasil each morning, using water drawn from the sacred Well of Urðr, some of that water's strength will flow to the branches' wielders. Empowered, these champions should be able to protect not just their worlds, but the World Tree itself.
Damage progression
| | |
| --- | --- |
| Level | Base damage |
| 1 | 1-1 |
| 2 | 1-1 |
| 3 | 1-1 |
| 4 | 1-1 |
| 5 | 1-1 |
| 6 | 1-1 |
| 7 | 1-1 |
| 8 | 1-1 |
| 9 | 1-1 |
| 10 | 1-1 |
| 11 | 1-1 |
| 12 | 1-1 |
| 13 | 1-1 |
| 14 | 1-1 |
| 15 | 1-1 |
| 16 | 1-1 |
| 17 | 1-1 |
| 18 | 1-1 |
| 19 | 1-1 |
| 20 | 1-1 |
| 21 | 1-1 |
| 22 | 1-1 |
| 23 | 1-1 |
| 24 | 1-1 |
| 25 | 1-1 |
| 26 | 1-1 |
| 27 | 1-1 |
| 28 | 1-1 |
| 29 | 1-1 |
| 30 | 1-1 |
| 31 | 1-1 |
| 32 | 1-1 |
| 33 | 1-1 |
| 34 | 1-1 |
| 35 | 1-1 |
| 36 | 1-1 |
| 37 | 1-1 |
| 38 | 1-1 |
| 39 | 1-1 |
| 40 | 1-1 |
| 41 | 1-1 |
| 42 | 1-1 |
| 43 | 1-1 |
| 44 | 1-1 |
| 45 | 1-1 |
| 46 | 1-1 |
| 47 | 1-1 |
| 48 | 1-1 |
| 49 | 1-1 |
| 50 | 1-1 |
| 51 | 1-1 |
| 52 | 1-1 |
| 53 | 1-1 |
| 54 | 1-1 |
| 55 | 1-1 |
| 56 | 1-1 |
| 57 | 1-1 |
| 58 | 1-1 |
| 59 | 1-1 |
| 60 | 1-1 |
| 61 | 1-1 |
| 62 | 1-1 |
| 63 | 1-1 |
| 64 | 1-1 |
| 65 | 1-1 |
| 66 | 1-1 |
| 67 | 1-1 |
| 68 | 1-1 |
| 69 | 1-1 |
| 70 | 1-1 |
| 71 | 1-1 |
| 72 | 1-1 |
| 73 | 1-1 |
| 74 | 1-1 |
| 75 | 1-1 |
| 76 | 1-1 |
| 77 | 1-1 |
| 78 | 1-1 |
| 79 | 1-1 |
| 80 | 1-1 |
| 81 | 1-1 |
| 82 | 1-1 |
| 83 | 1-1 |
| 84 | 1-1 |
| 85 | 1-1 |
| 86 | 1-1 |
| 87 | 1-1 |
| 88 | 1-1 |
| 89 | 1-1 |
| 90 | 1-1 |
| 91 | 1-1 |
| 92 | 1-1 |
| 93 | 1-1 |
| 94 | 1-1 |
| 95 | 1-1 |
| 96 | 1-1 |
| 97 | 1-1 |
| 98 | 1-1 |
| 99 | 1-1 |