Challenge 0.7
This time the challenge has nothing to do with achieving a goal in the game. Behold! There was something troubling me concerning the items, something I really, really wanted to implement for this game for a long time. Have a look at the two images below.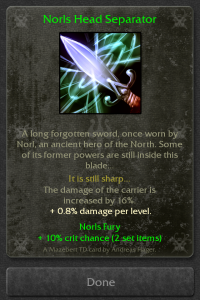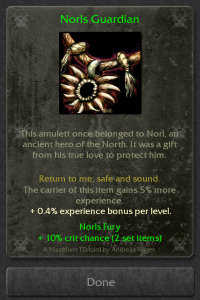 Yes, you've seen right! There will be item sets coming to Mazebert TD! But sets... that's a quite different thing compared to "normal" items. When I just think about the epic sets in Diablo 2, how much love the developers must have added to the concept of epic sets like Cow King's Leather, Immortal King or Bul-Katho's Children. Who would ever forget those names? Designing a sophisticated set of items plus balancing the set boni is much harder than just making up a single item. That's why I need your help! This time the challenge is: Make up a set of your own! The following constraints apply:
A set must contain at least 2 items, max 4 items
There must be at least one bonus for wearing the complete set
The rest is up to you!
Please post your idea as a comment to this blog entry! The best 3 ideas will be implemented and added to the game. The challenge ends November, 30th.