A long awaited adjustment...
After epic holidays it's time for some development! Here's an adjustment, that's been due for quite a bit. And I think it's really important for the next version to be done: The Shadow nerf!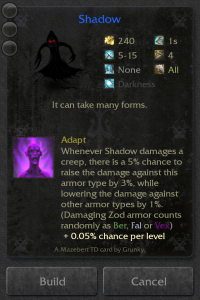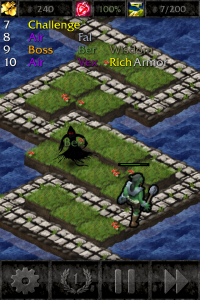 I went with the suggestion by DerpMinh and removed the adaption on waves with Zod armor. When damaging Zod, it no longer increases the damage against all armor types by 3%. Instead, it counts as a regular hit on a random armor type. For instance, when adapting two times in a row on a challenge:
1st hit: counts as Ber -> +3% against Ber, -1% against Fal and Vex.
2nd hit: counts as Vex -> +3% against Vex, -1% against Fal and Ber.
The tower notification was changed as well: Instead of "Adapt!" it now displays the armor type that was adapted to, for instance "Ber!" or "Vex!". I really hope the description on the tower card explains it well and isn't too long. If you have suggestions for the card text or ideas to explain it in an easier way, I'm happy to hear about it!