Acolyte of Greed
This is my contribution to the set of new darkness towers. The Acolyte of Greed has a Battlecry ability, which is a new kind of tower ability. Battlecry is triggered, when you build the tower on the map! In case of the greedy acolyte, treasure goblins are summoned.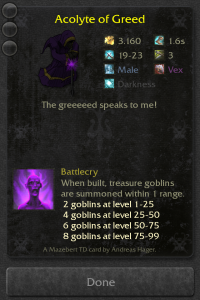 [audio mp3="https://mazebert.com/wp-content/uploads/2014/07/selected.mp3"][/audio]
This card should be a great addition to mid/endgame: - It might be better to build Acolyte cards than to transmute them - They serve as a tiny gold sink - They force more interaction (when to build?) How do you like this card? Would you like to see more cards with Battlecry in the game?