First alpha release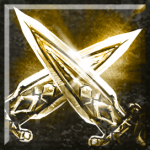 The first alpha release of Mazebert is ready for download! Please note that this is an alpha release, not the final app. In fact it is FAR AWAY from being the final app. But it can be played already.
Release notes
This alpha release is a desktop version of a game intended to be a phone app. So operating it by mouse and not touch might feel weird in the first place.
In this version you can build all towers that have been created so far. No gold limit, no tower cards that need to be dropped.
There are no items or potions yet. Without such support the game will become DIFFICULT very soon!
Happy building! This release has 9 towers you can play with.