Uncommon darkness towers vote
We need 7 more darkness towers
Three of them, the Acolyte of Greed, Novice Wizard and Small Spider are already known (see previous post). But who will be the others? Your vote counts!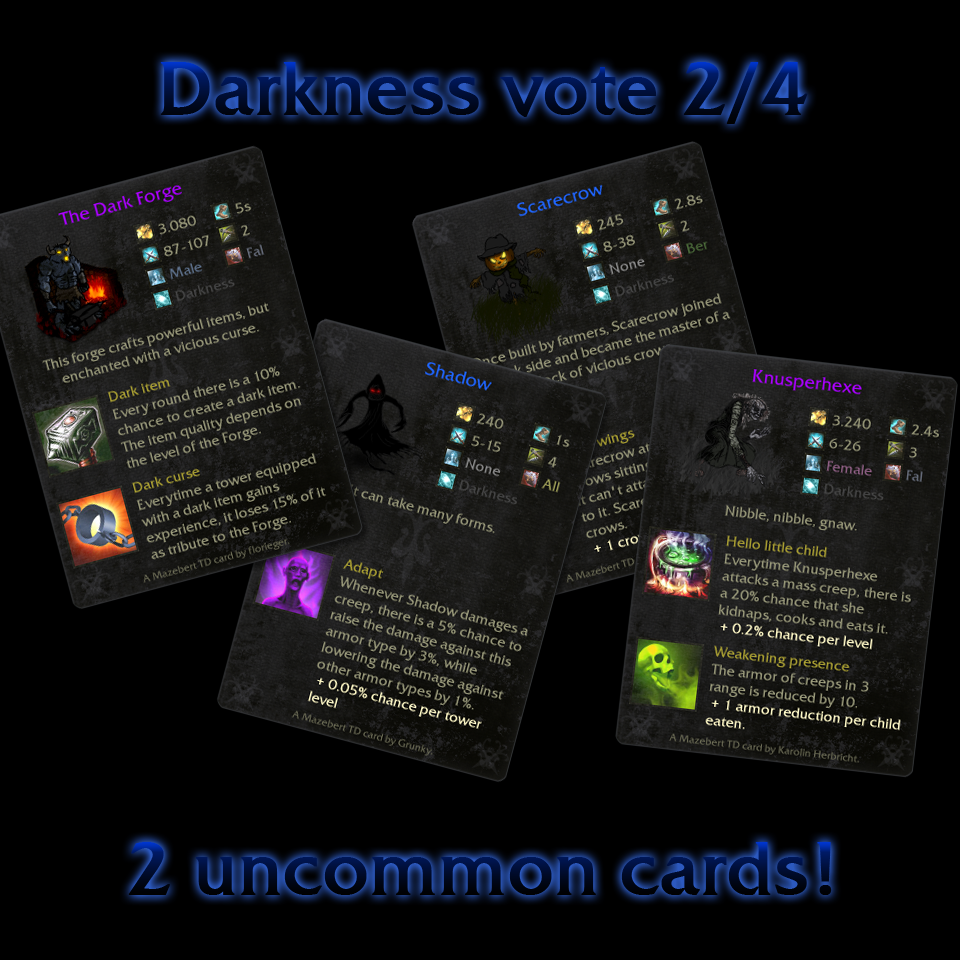 We continue with uncommon towers today (2 needed). These are the towers you can vote for:

Flesh Reaver
Range 3 Starting Speed 2 Uncommon Price 300 Attack 10-18 Activated Ability Lose 10% of your health, Flesh Reaver permanently gains 25% Attack Speed, 25% Damage, 25% Critical Damage.

Black Priest
Uncommon damage:15-25 range: global attack speed:3 male Abilities: Resolve- when attacking a creep it places a curse. If it dies within 4 sec the curse causes it to explode 1.5sec after it dies dealing the 50%(+.5% per tower level) of the priest's damage (10% crit chance +0.1% per tower level). Creeps passing through the corpse gets its armor reduced by 7% and takes 4% additional damage. Each corpse last for 7seconds after it dies. Armor and dmg amplification stacks as to how many corpse it passes through and the debuff last for 5seconds. Passing through a corpse refreshes the debuff. *the skill's Crit chance is not affected by luck and items nor of the tower's crit chance. But affected by crit damage.

Ouija
For the glory of darkness of course! Damage:15-20 Range:1 Speed:3s Unholy chant All darkness towers gains 0.1 exp and -0.1 atk damage +0.02 per level on both effects

Enchanted Wardrum
A wardrum enchanted with a life of its own. Dmg:15-20 Range:2 Speed:2.5 Boister: the sounds of this wardrum brings encouragement to all those who hears it. Gives 10% crit chance (+0.2% per tower level) and 10% luck (+0.2% per tower level) to towers within its range.

Succubus
Blue Gem 380 gold 2s 15-27 dmg 2 range Creeps hit by the Succubus have a 10% (+0.1%/level) chance of being slowed and having their armor reduced by 10 (+1/level) while they are in the range of the Succubus

Solara, The Fire Elemental
I'm thinking this could be a good Blue Rarity card with splash damage. Female. Ability: Fireball. Deals 35% splash damage within X range. Those creeps suffer x burn damage per second, damage is multiplied based on the creeps speed.(faster the creep, higher the damage) So sort of like a dandelion mixed with a poisonous frog… I imagine low damage and medium speed. Would definitely be cool art though! She would be really hot.


Vote now and join the dark side!
The poll will close Friday next week. [yop_poll id="11"]