Version 0.1.1 released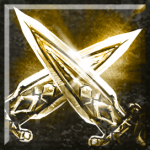 A new alpha release of Mazebert is ready for download! Please note that this is an alpha release, not the final app. In fact it is FAR AWAY from being the final app. But it can be played already.
Release notes
Fixed the tower selection issue, that was reported by Mo. Towers in the foreground no longer block access to towers behind them that easily. A downsampled bytebuffer with direct access to the underlying alpha values of the tower sprites did the trick! Also, when building a new tower, the ground tile where the tower will be built is now highlighted. Thanks Mo for the good suggestions!
Happy building! This release has 9 towers you can play with.