Version 0.2 released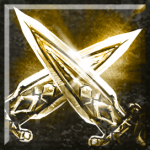 A new alpha release of Mazebert is ready for download! There are a lot of new features in this release compared to the previous version. I think this version is the first one, where Mazebert actually feels a little bit like a real game. You can read about the highlights in the release notes below.
Release notes 0.2.0
Features Daniel's Bear Hunter tower!
You can find 13 items in the game and equip your towers with them!
Tower cards drop now randomly during the game and towers cost money to build.
Credits are now displayed on each card for tower and item ideas!
Tower stats and inventory screens are implemented and available.
Added sounds for death of creeps, item and money drops.
Z-sorting of towers has been fixed!
The game-start and next-wave cooldowns now have reasonable durations (30s/5s).
A special game complete message has been implemented.
Damage numbers are now formatted in a more readable way.
Fixed Huli's broken Mojo ability.
Improved balancing factors according to the results of v0.1.2.
Happy building! This release has 10 towers you can play with.
Release notes hotifx 0.2.1
Whenever an item drops, a UI notification is shown on the bottom left of the screen.
Balancing of towers and tower drops improved. (Rabbit and Dandelion are boosted a little bit, Crit calculation for Electric Chair is fixed)
A new creep model was added to the game: Look out for Spiders!
The version number is now displayed in the game over screen.
Screenshots