Version 0.5 released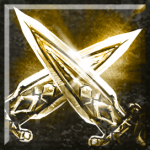 A new alpha release of Mazebert TD is ready for download! With player progress, ladder, credits and creep abilities this release has some exciting new features. Of course there is also some new content and a little bit of re-balancing included. Hope you enjoy playing it!
Release notes 0.5.0
Challenge rewards!

Alex's Black Widow tower! (Nightmare Challenge)
Thomas' Painkiller potion! (Hell Challenge)
Alex's Key of Wisdom item! (Capitalist Challenge)

Ladder & Player progress! Every game brings your wizard closer to level 99. Compete with each other in the new ladder!
Credits! If you're not yet included, go win the next challenge!
Creep abilities! Creeps have up to two random abilities.
1 new tower, 2 new items and 1 new potion!
On Android/iOS the standby/screen-lock is disabled.
Fixed some issues with saving/loading Huli, Balu and Wolf.
Horadric cube is now unique, so place this tower carefully.
Improved performance of autosave feature.
Improved balancing factors and nerfed/buffed towers according to the results of version 0.4.
Download Mazebert TD v0.5
You can download the latest version of Mazebert TD on the download page.
Screenshots
[caption id="attachment_697" align="alignleft" width="200"]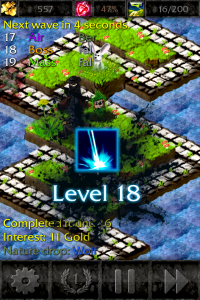 Player progress and ladder![/caption][caption id="attachment_718" align="alignleft" width="200"]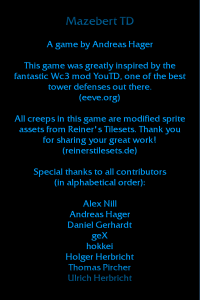 Finally, credits! Thank you guys.[/caption][caption id="attachment_743" align="alignleft" width="225"]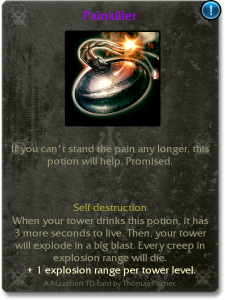 A very creative potion from Thomas![/caption][caption id="attachment_745" align="alignleft" width="225"]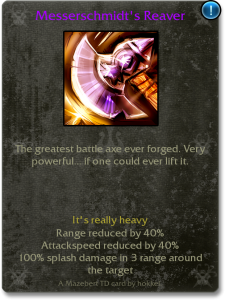 hokkei's heaviest axe in the world![/caption][caption id="attachment_751" align="alignleft" width="225"]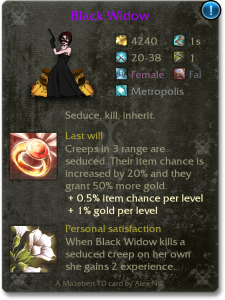 A very seductive criminal from Alex.[/caption][caption id="attachment_749" align="alignleft" width="225"]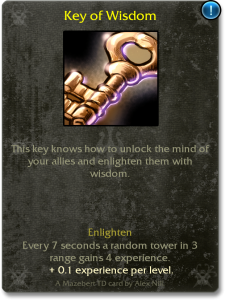 And a very useful item from Alex![/caption]