Version 0.6.0 released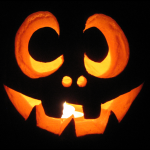 Happy Halloween! The Halloween release of Mazebert TD is now ready for download! With skill tree, horsemen of the apocalypse and many new vicious cards this release hopefully scares you well. This time, there is a lot of re-balancing included. I hope you will enjoy playing it!
Release notes 0.6.0
The new skill tree! Spend skill points worth your current level.
Every 50th round you must face one of the Four Horsemen of the Apocalypse.
A creepy main menu and a map at night teach you fear!
3 new towers, 1 new item and 1 new potion!
Improved memory management of tower assets.
Fixed the bug which made it possible for a unique item to drop twice.
Pressing the next wave button has no effect when the game is paused.
Improved balancing factors and nerfed/buffed towers according to your feedback on version 0.5:

Nerfed Huli the Monkey
Buffed uncommon items
Nerfed Key of Wisdom
Buffed Holgar the Horrible (higher strength, weaker potions, but increased potion dropchance)
Buffed mass waves
Nerfed Messerschmidt's Reaver
Download Mazebert TD v0.6
You can download the latest version of Mazebert TD on the download page. Hint for Android: I just uploaded the APK to the Google Play Store, but it states that it could take several hours before it is available. If you can't wait, I provided a direct link to the APK.
Screenshots
[caption id="attachment_839" align="alignleft" width="190"]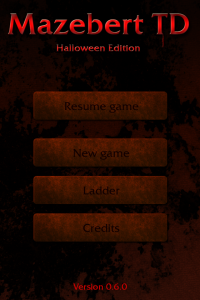 Creepy main menu, just to get into the right mood.[/caption][caption id="attachment_842" align="alignleft" width="190"]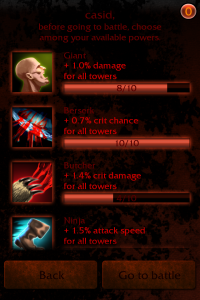 The new skill tree is finally there![/caption][caption id="attachment_844" align="alignleft" width="190"]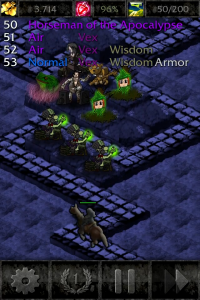 Behold! The four horsemen. Can you defeat them in epic battle?[/caption][caption id="attachment_850" align="alignleft" width="225"]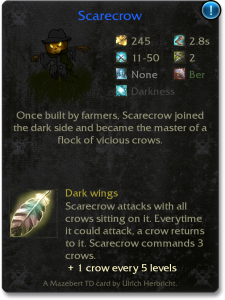 A new early/midgame carrier.[/caption][caption id="attachment_852" align="alignleft" width="225"]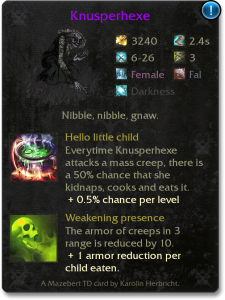 Well, this one is a quite lovely support.[/caption][caption id="attachment_854" align="alignleft" width="225"]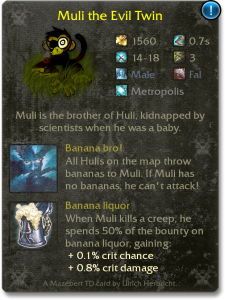 Huli's evil twin brother![/caption][caption id="attachment_856" align="alignleft" width="225"]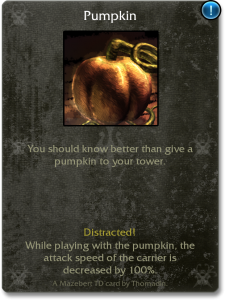 Look, it's a pumpkin. At first glance this item doesn't make any sense at all..[/caption][caption id="attachment_858" align="alignleft" width="225"]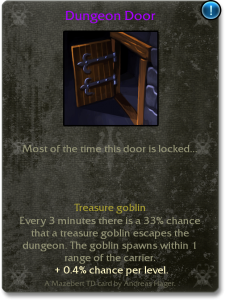 An item for adventurers...[/caption][caption id="attachment_859" align="alignleft" width="225"]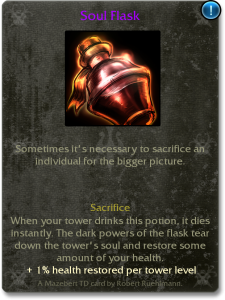 Crush your poor towers for your own good.[/caption] ============================================================================
Ladder challenge
Aaaand the ladder is closed for the current challenge. I just took the final screenshot! Congratulations everybody for this epic ladder run. The winners are: 1st: Grunky - You win a card of your choice! 2nd: Vasuhn - You win a potion OR item card! 3rd: Mr.Gonzalez - You win an item card! In the next days I will try to contact you about your card ideas! Please note that as the ladder is anonymous (no email adresses or other data captured). So if some nickname cannot be identified within time, the next best player is getting the reward! Now I have some fun with the Halloween release :-) [caption id="attachment_865" align="aligncenter" width="209"]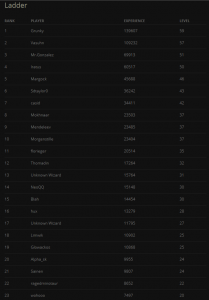 Congratulation guys! This was an epic ladder run![/caption]