Hitman Lore
My dear friend Matt from mattreadscomics.com has written lore for the Hitman, which is now living on Hitman's card page. Matt is a great writer AND a player of Mazebert, which makes this some fantastic lore! Feel free to post your thoughts about it in the comments section :-)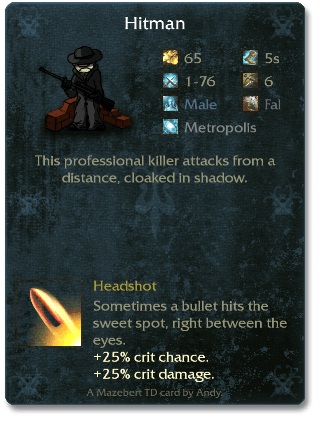 Reload.
The Hitman knows he's hit his target, so he does not pause before pulling the bolt back on his rifle. He slides another bullet into place and waits for the next creep to enter his sights.
The Hitman would like to tell you he's lost count of how many creeps he's killed during this siege, but that would be a lie. He keeps count because that's what professionals do. The Hitman knows exactly how many bullets he's loaded, exactly how many times he's pulled his rifle's trigger. Exactly how many shots he and his gun and his kingdom have left.
Another wave of creeps appears and with it, another target. Another bullet, another kill. The Hitman would like to tell you he's tired of killing, but that would be another lie.
Death is what the Hitman lives for.