Candle
A Mazebert TD card by t4c1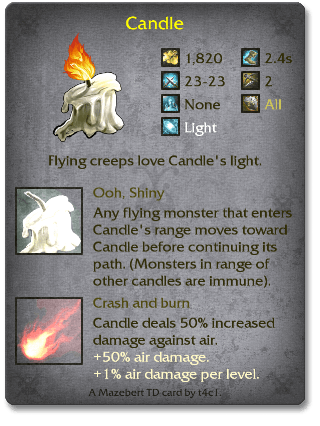 | | |
| --- | --- |
| Item level: | 50 |
| Since version: | 2.0 |
| Obtainable: | Regular card |
Changelog
s18 (2019)
Atop the castle Camelot, two Knights of the Round Table consider how to fight foes they cannot reach.
"The Guards and Templars are turning back the creeps' ground forces," says Sir Lancelot to Sir Gawain. "But we have no way of stopping, or even slowing, the dragons. They're wary, and they're intelligent. They're staying well out of our archers' range."
"And they're laying waste to our people's homes," says Sir Gawain.
"Yes," says Sir Lancelot. "You are the wisest of the King's knights, Sir Gawain. He thought you might have an idea of what to do."
"I do," says Sir Gawain. "I'll need you to help me gather as many candles, lanterns, and flammable materials as we can. But first, we need to tell the Guards to bring all our archers here."
Over the next half hour, Sir Gawain, Sir Lancelot, and every other castle dweller they can enlist build the biggest bonfire Camelot has ever seen. Meanwhile, the King's archers answer Sir Gawain's call. They gather upon the castle's towers and ready their bows, lit sternly by Sir Gawain's fire.
"According to legend, dragons can't help but be attracted to flame," says Sir Gawain. Standing to one side of the bonfire, he watches as every dragon in the city turns toward Camelot. "Maybe because they were born in it. Maybe because it burns within them. Either way, they're drawn to fire's dance."
"Well, it seems the legends told true," says Sir Lancelot. "The dragons are now descending on us, Sir Gawain, exactly as you planned. The question now is, will we be able to defeat them?"
"Certainly," says Sir Gawain. He surveys the King's assembled archers, each of whom has already notched an arrow and begun sighting their enemy. "Because you see, Sir Lancelot, we have a fire burning within us, too."
Damage progression
| | |
| --- | --- |
| Level | Base damage |
| 1 | 23-23 |
| 2 | 28-28 |
| 3 | 33-33 |
| 4 | 39-39 |
| 5 | 44-44 |
| 6 | 49-49 |
| 7 | 55-55 |
| 8 | 60-60 |
| 9 | 66-66 |
| 10 | 71-71 |
| 11 | 76-76 |
| 12 | 82-82 |
| 13 | 87-87 |
| 14 | 92-92 |
| 15 | 98-98 |
| 16 | 103-103 |
| 17 | 109-109 |
| 18 | 114-114 |
| 19 | 119-119 |
| 20 | 125-125 |
| 21 | 130-130 |
| 22 | 135-135 |
| 23 | 141-141 |
| 24 | 146-146 |
| 25 | 152-152 |
| 26 | 157-157 |
| 27 | 162-162 |
| 28 | 168-168 |
| 29 | 173-173 |
| 30 | 178-178 |
| 31 | 184-184 |
| 32 | 189-189 |
| 33 | 195-195 |
| 34 | 200-200 |
| 35 | 205-205 |
| 36 | 211-211 |
| 37 | 216-216 |
| 38 | 221-221 |
| 39 | 227-227 |
| 40 | 232-232 |
| 41 | 238-238 |
| 42 | 243-243 |
| 43 | 248-248 |
| 44 | 254-254 |
| 45 | 259-259 |
| 46 | 264-264 |
| 47 | 270-270 |
| 48 | 275-275 |
| 49 | 281-281 |
| 50 | 286-286 |
| 51 | 291-291 |
| 52 | 297-297 |
| 53 | 302-302 |
| 54 | 307-307 |
| 55 | 313-313 |
| 56 | 318-318 |
| 57 | 324-324 |
| 58 | 329-329 |
| 59 | 334-334 |
| 60 | 340-340 |
| 61 | 345-345 |
| 62 | 350-350 |
| 63 | 356-356 |
| 64 | 361-361 |
| 65 | 367-367 |
| 66 | 372-372 |
| 67 | 377-377 |
| 68 | 383-383 |
| 69 | 388-388 |
| 70 | 393-393 |
| 71 | 399-399 |
| 72 | 404-404 |
| 73 | 410-410 |
| 74 | 415-415 |
| 75 | 420-420 |
| 76 | 426-426 |
| 77 | 431-431 |
| 78 | 436-436 |
| 79 | 442-442 |
| 80 | 447-447 |
| 81 | 453-453 |
| 82 | 458-458 |
| 83 | 463-463 |
| 84 | 469-469 |
| 85 | 474-474 |
| 86 | 479-479 |
| 87 | 485-485 |
| 88 | 490-490 |
| 89 | 496-496 |
| 90 | 501-501 |
| 91 | 506-506 |
| 92 | 512-512 |
| 93 | 517-517 |
| 94 | 522-522 |
| 95 | 528-528 |
| 96 | 533-533 |
| 97 | 539-539 |
| 98 | 544-544 |
| 99 | 549-549 |