Tinker
A Mazebert TD card by Cayenne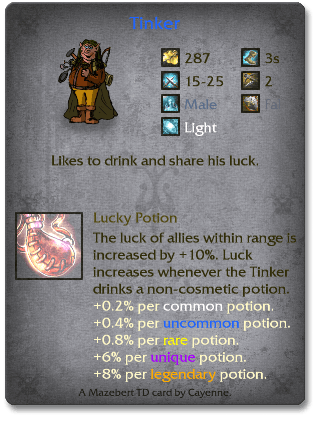 | | |
| --- | --- |
| Item level: | 1 |
| Since version: | 2.0 |
| Obtainable: | Regular card |
Changelog
s29 (2022)
Aura range can be modified.
s21 (2020)
Aura effect increased from 5% to 10%, effects per potion increased.
s18 (2019)
The Tinker's always loved games of chance and skill. Which is why he views this creep siege as just another contest to be won.
"Granted, the consequences of losing this game are higher," says the Tinker, as he fits the Gargoyle he's speaking to with an improvised set of metal fangs. The Tinker constructed the fangs himself using a discarded dental retainer, a set of old hunting knives, and other odds and ends found around his studio.
"But the reward for winning is also higher!" continues the Tinker. Satisfied with the fangs' fit, he reaches for a log at his side and places it in the Gargoyle's mouth. "Each day, we play a game in which the stakes are our very lives. If you think about it like that, this siege is actually quite exciting."
When the Tinker asks the Gargoyle to bite down on the log, the beast's new metal teeth cleave the wood to pieces. Satisfied with this result, the Tinker asks the Gargoyle to move along and motions for the Guard standing behind the Gargoyle to step forward.
The Tinker begins coating the Guard's armor with a proprietary oil-based solution (designed to ensure no creeps can keep hold) and as he paints, he finishes his monologue.
"Of course, with the stakes being so much higher, we must do what every good gambler or card shark does when they have to win," says the Tinker. "We must cheat. Because in my book, when the stakes of the game are your very life, there's absolutely no reason to play fair."
Damage progression
| | |
| --- | --- |
| Level | Base damage |
| 1 | 15-25 |
| 2 | 19-31 |
| 3 | 23-38 |
| 4 | 26-44 |
| 5 | 29-49 |
| 6 | 33-55 |
| 7 | 37-61 |
| 8 | 41-68 |
| 9 | 44-74 |
| 10 | 47-79 |
| 11 | 51-85 |
| 12 | 55-91 |
| 13 | 59-98 |
| 14 | 62-104 |
| 15 | 65-109 |
| 16 | 69-115 |
| 17 | 73-121 |
| 18 | 77-128 |
| 19 | 80-134 |
| 20 | 83-139 |
| 21 | 87-145 |
| 22 | 91-151 |
| 23 | 95-158 |
| 24 | 98-164 |
| 25 | 101-169 |
| 26 | 105-175 |
| 27 | 109-181 |
| 28 | 113-188 |
| 29 | 116-194 |
| 30 | 119-199 |
| 31 | 123-205 |
| 32 | 127-211 |
| 33 | 131-218 |
| 34 | 134-224 |
| 35 | 137-229 |
| 36 | 141-235 |
| 37 | 145-241 |
| 38 | 149-248 |
| 39 | 152-254 |
| 40 | 155-259 |
| 41 | 159-265 |
| 42 | 163-271 |
| 43 | 167-278 |
| 44 | 170-284 |
| 45 | 173-289 |
| 46 | 177-295 |
| 47 | 181-301 |
| 48 | 185-308 |
| 49 | 188-314 |
| 50 | 191-319 |
| 51 | 195-325 |
| 52 | 199-331 |
| 53 | 203-338 |
| 54 | 206-344 |
| 55 | 209-349 |
| 56 | 213-355 |
| 57 | 217-361 |
| 58 | 221-368 |
| 59 | 224-374 |
| 60 | 227-379 |
| 61 | 231-385 |
| 62 | 235-391 |
| 63 | 239-398 |
| 64 | 242-404 |
| 65 | 245-409 |
| 66 | 249-415 |
| 67 | 253-421 |
| 68 | 257-428 |
| 69 | 260-434 |
| 70 | 263-439 |
| 71 | 267-445 |
| 72 | 271-451 |
| 73 | 275-458 |
| 74 | 278-464 |
| 75 | 281-469 |
| 76 | 285-475 |
| 77 | 289-481 |
| 78 | 293-488 |
| 79 | 296-494 |
| 80 | 299-499 |
| 81 | 303-505 |
| 82 | 307-511 |
| 83 | 311-518 |
| 84 | 314-524 |
| 85 | 317-529 |
| 86 | 321-535 |
| 87 | 325-541 |
| 88 | 329-548 |
| 89 | 332-554 |
| 90 | 335-559 |
| 91 | 339-565 |
| 92 | 343-571 |
| 93 | 347-578 |
| 94 | 350-584 |
| 95 | 353-589 |
| 96 | 357-595 |
| 97 | 361-601 |
| 98 | 365-608 |
| 99 | 368-614 |